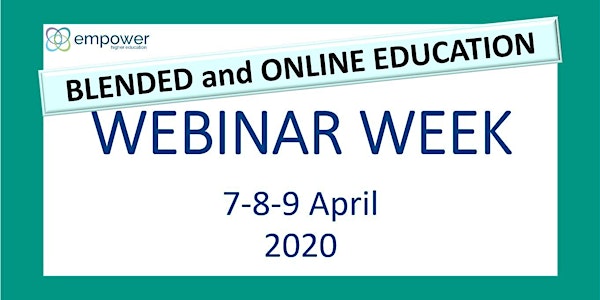 EMPOWER webinar week on Blended and Online Education
Our next EMPOWER webinar week is coming up, dedicated to Blended and Online Education.
About this event

EADTU is organising the Blended and Online Education webinar week from 7-9 April 2020.
Please click here to access the meeting room https://eadtu.clickmeeting.com/empowerevents
________________________________________________________________________________________________________
A consensus is emerging that blended education, a term that embraces various combinations of classroom presence and online study, will become the most common approach to teaching and learning in higher education.
Technology is now widely accepted as a normal part of university education, by both students and teachers, and is seen by many as the solution to problems such as scaling up with limited funding. The adoption of MOOCs and fully online education by high-ranked universities has reduced the negative view of technology in higher education. To support these changes, most universities have "eLearning centres" of some kind, with professional "learning technologists/instructional designers" who work with teachers to create and deliver blended and fully online courses. (EMPOWER, EADTU, 2020).
In this webinar week we explore good practices and new developments in the field of blended and online education.
_________________________________________________________________________________________________________
Programme:
_________________________________________________________________________________________________________
Tuesday 7 April 2020 [14:00 - 15:00 CEST]:
Looking deeper into Blended and Online education
Student Hub Live (SHL), the OUUKs live online interactive platform, encourages effective engagement with learning though extracurricular events and workshops that facilitate academic community and develop academic skills. This webinar focuses on non-modular, non-disciplinary, online interactive study-skills workshops. The workshops are an hour and each focus on developing a specific study skill such as academic writing or critical thinking, through teaching, processing and applying the skill. They are designed in such a way that participants can interact without any preparation and students are encouraged to apply the general learnings to their own situation. This webinar will showcase the learning design and explain how we achieve an intimate environment and opportunity for individuals to engage while in a large scale learning environment with around 200 students in a session. We will also discuss the impact that these workshops have on those who attend, and convey the confidence that students report in developing their skills and also meeting likeminded others.
This session will be of interest to those who are keen to develop interactive online learning environments at scale, and/or in offering supplementing online opportunities for students to develop essential academic skills. The community aspect is an element that enhances the learning at these events, and those interested in facilitating belonging at a distance will also find value in the discussion.
Project "MuSA: Museum Sector Alliance" designed 4 new occupational profiles for the museum sector, which integrate digital and transferrable competences, so that museum professionals are enabled to deal with the challenges posed by museums of the future. For each profile, a learning path was designed and implemented, consisting of the following stages:
Stage 1: An 8-week MOOC titled "Essential skills for museum professionals". This was the first training stage that was common for all profiles. About 5.200 people enrolled in the MOOC and 1.350 of them completed it successfully
Stage 2: A 6-months specialization course, different for each profile. The blended course was delivered using a combination of online learning and face-to-face training. 120 of those who completed the MOOC enrolled in the 4 specialization courses
Stage 3: A 2-month workplace learning that took place in museums. Each learner, under the combined supervision of a tutor and museum professional, implemented a project, in which he/she applied the knowledge and skills gained during the previous two stages to solve a problem of the hosting museum. In this stage were involved all those who participated in stage 2
The project offered a holistic learning experience, combining online and face-to-face training and cumulating with a real-life project implemented within a museum. In total, the participants received training in more than 40 digital and transferrable competences using specially developed digital OERs. Due to this approach, the project has been included as a best practice in the EU DigComp User Guide (2018).
_________________________________________________________________________________________________________
Wednesday 8 April 2020 [14:00 - 15:00 CEST]:
Good practices in Blended and Online education
Short learning programs (SLPs) are independent learning units of variable sizes (between 5 and 30 ECTS) which are usually awarded with a certificate and are recognized in larger degree program structures. They focus on complex (academic) learning and are mainly offered online. In this webinar I will discuss the design of SLPs and focus on the challenge of enabling synchronous collaborative learning within such programs.
Blended and online education in all its diverse forms are impossible to overlook in the current policies and curricula in higher education. However, what are strategies to translate the current developments in online and blended education into the daily practice of higher education institutions? How can you translate the developments within the field of online and blended education all the way into higher education classrooms? This webinar will share different supporting strategies that foster the development of blended education within KU Leuven. The strategies range from a broad an new learning network: KU Leuven Learning Lab, to online learning modules all the way to a very concrete project called MYCA (Make Your Course Attractive).
This session will be of interest to those who develop blended learning within higher education institutions, whether this is at the policy or the local level and everything in between.
_________________________________________________________________________________________________________
Thursday 9 April 2020 [14:00 - 15:00 CEST]:
Good practices in Blended and Online education
Predictions of student success can be helpful, both in open education - enabling us to focus support on the most vulnerable students; and in selective education - to reduce false positives (students selected who subsequently fail), and false negatives – (potential students who were not selected but could have succeeded). This seminar reports a project at the UK Open University which attached a 'predicted probability of success' to some 3500 new students based on a logistic regression analysis. The predictions were used to focus support on the most vulnerable students, increasing their retention rate by more than 5.
The seminar will also outline the ethical issues around the use of such data and ask participants 'would you tell a student their prediction?...'
Learning not only occurs in formal settings, within higher educational institutes, but across various (professional and private) environments in which learners are intentionally and actively engaged. Currently, these learning environments learners move through are still separated in many ways. Opportunities to facilitate continuity in learning (and support) processes through the use of (mobile) technology are still left unexploited.
In this session we introduce the 'Seamless learning design' paradigm and present recent example implementations. Furthermore, we look into the relevance of this paradigm for higher (distance) educational institutes and explore challenges and opportunities that university lecturers indicate will help or hamper further uptake and implementation. The session is interesting for lecturers, educational designers and policy makers who design, develop or implement technology-enhanced learning models within higher (distance) education.