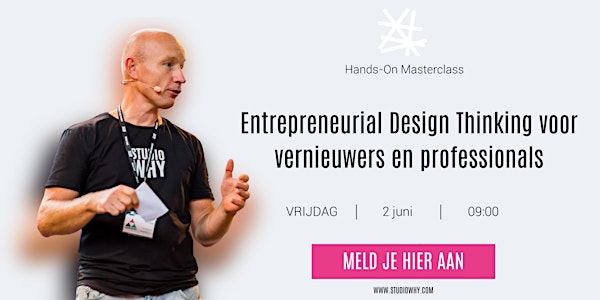 Entrepreneurial Design Thinking voor vernieuwers en professionals
Masterclass Entrepreneurial Design Thinking on how to solve complex challenges and create value for others.
Date and time
Starts on Monday, July 3 · 7am PDT
Refund Policy
Refunds up to 30 days before event
Eventbrite's fee is nonrefundable.
About this event
Dompel jezelf onder in een transformerende leerervaring met onze één uur durende online Masterclass.
Nieuwe creativiteitstechnieken
Begrijp complexe probleemoplossende methoden
Doe praktijkervaring op met echte case studies
Spreker:
Kees Froeling. Kees is onze ondernemende netwerker, facilitator en innovatiestrateeg met een uitgebreide achtergrond in commerciële economie en management. In de afgelopen 20 jaar werd hij bekend om zijn dynamische aanpak om verandering te stimuleren. Kees helpt individuen en teams hun innovatief potentieel te ontsluiten, kansen te benutten en productieve verbindingen te smeden.
Als expert in verschillende interventiemethoden, zoals Entrepreneurial Design Thinking, LEGO® SERIOUS PLAY®, Future Literacy en Industry Battles, brengt Kees een schat aan kennis mee naar het STUDIO.WHY team. Hij is gepassioneerd over het in staat stellen van anderen om met vertrouwen en doelgericht te navigeren door een onvoorspelbare toekomst.
Doe mee met Kees in onze komende masterclass om meer te leren over Entrepreneurial Design Thinking en hoe het jouw innovatie- en veranderingstraject kan versterken.
Overzicht Masterclass
Onze Masterclass verkent de principes van Entrepreneurial Design Thinking en de toepassingen ervan. U zult begrijpen hoe toonaangevende organisaties als Airbnb, Google en Oral B deze techniek gebruiken om waarde te creëren. Ook doet u praktijkervaring op door middel van praktische oefeningen.
Inhoud
Inleiding tot STUDIO.WHY
Overzicht van veelgebruikte innovatiemethoden
Inzicht in Entrepreneurial Design Thinking & Dutch Design Delta's
Deelnemen aan een case study en ervaring uit eerste hand opdoen
Leren hoe toegang te krijgen tot onze uitgebreide kennisbank
Doe mee
Doe mee aan deze cursus om oplossingen te creëren voor een waardevolle morgen: Denk ondernemend, ontwerp creatief!
Lees meer op www.studiowhy.com/knowledgebase
Frequently asked questions
Wat is het resultaat van deze Masterclass?
Hoe wordt deze masterclass gefaciliteerd?
Wat is inbegrepen in deze masterclass?
About the organizer
At STUDIO.WHY, we help individuals and organizations unlock their innovative potential and take control of their futures. We empower them to innovate and learn continuously through hands-on experiences and challenge-based learning. Our goal is to help people become indispensable by training them how to create value for others and the world around them. We believe that a proactive learning culture and entrepreneurial mindset are essential for navigating an unpredictable future with confidence and purpose. Through our programs and initiatives, we aim to make a positive impact in people's lives and careers by demonstrating real results from new and innovative approaches.