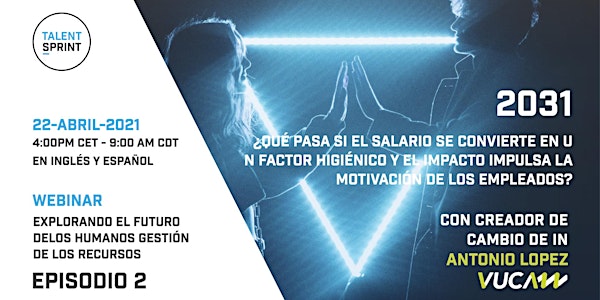 Ep6 - futuro de HR: cuando el salario se convierte en un factor de higiene
¿Qué pasa si el salario se convierte en un factor higiénico y el impacto impulsa la motivación de los empleados? ¿Qué harías
When and where
Date and time
Thursday, April 22, 2021 · 7 - 8:30am PDT
Refund Policy
Contact the organizer to request a refund.
About this event
⚠️ Esta sesión será en dos idiomas y damos la bienvenida a participantes de habla española einglesa
¿Cómo afectan las tecnologías como la inteligencia artificial, la robótica y blockchain a las futuras profesiones de recursos humanos? Cómo las tendencias en la sociedad están impactando el futuro del trabajo y la gestión de recursos; ¿Qué otras señales definen el futuro de la gestión de recursos humanos?
Un tema nos inspiró y diseñamos este nuevo episodio en torno a él:
"¿Qué pasará siel salario se convierte únicamente en un factor higiénico y el impacto es lo que impulsa la motivación de los empleados?"
¿Cómo afectaría esto al mundo de la gestión de recursos humanos, la gestión del desempeño de los empleados, la adquisición de talento, la recompensa y el reconocimiento?
Hemos invitado a Antonio López (fundador de VUCA, de México, una agencia de consultoría estratégica de recursos humanos) que será coanfitrión y co-facilitador de una exploración de 75 minutos con nosotros.
Una sesión interactiva (tarde para los participantes de CET, mañana para quienes viven en América) donde puede participar activamente en este tema y enmarcar su mente. Este evento será en dos idiomas y dará la bienvenida a participantes del mundo de los recursos humanos de habla hispana e inglesa, pero también a otros interesados ​​en explorar este tema con nosotros.

AGENDA
Llegadas y check-in
Bienvenida y presentaciones de Jeroen Krumau / Antonio López
Exploración interactiva del futuro de los recursos humanos, facilitador invitado Antonio López
Discusión y reflexión conjuntas
Próximos pasos hacia el futuro
Cierre
For who is this webinar?
HR leaders & executives
HR Strategists
HR Consultants
Talent-Acquisition professionals
Students & researchers in the field of HR
Two ticket types
Claim your FREE ticket, or be generous to buy a DONATION ticket. All proceeds will be donated to 4better2morrow - a non-profit initiative that empowers the young generation with 'future skills'. 4B2M offers participants online learning experiences where they connect with international young people, work on global issues to discover, develop and strengthen vital skills for their future.

Sobre Antonio Lopez
Antonio es cofundador y CEO de VUCA, Ciudad de México, - la agencia de pensamiento de diseño para HR - con la misión de rehumanizar las prácticas de recursos humanos. Con VUCA se enfoca en definir e implementar una estrategia innovadora que mejore la experiencia del empleado y transforme la cultura organizacional.
Antonio también fue un invitado anterior de nuestra serie de podcasts Talent-Sprint UNLOCK (ED), con su primera entrevista de podcast en inglés. Escuche su episodio de podcast con nosotros.
About our Talent-Sprint Webinars series
The Talent-Sprint supports organizations recruiting differently. Instead of resume- and vacancy-driven talent-acquisition, we offer human-centered experiences where active and passive career seekers engage on a live stage with inspiring purpose-driven organizations.
Following a series exploring today's early career professionals, we now curate a series of FREE webinars to explore the future of HR. As before, we will invite guest contributors and our events are open to all, although may target an HR-pro oriented audience.
Register HERE in case you want to receive upcoming Webinar announcements
Your webinar hosts and moderators
Sabrina Goerlich - design agency owner - is a highly experienced design sprint facilitator, trainer, and co-founder of the Talent-Sprint.
Jeroen Frumau - former head of design operations at Philips Electronics - is a passionate talent-match maker and co-founder of the Talent-Sprint.
Emmanuelle Nechifor - brand strategy & workshop enthusiast - loves to unlock superpowers and is responsible for new business development at the Talent-Sprint.