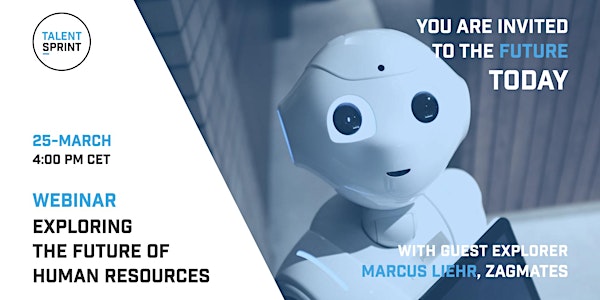 Episode 5 - The future of HR, how ready are you, where and when to start?
Let's make the future of HR tangible today: identify beacons that help you to accelerate and navigate towards a foreseeable future.
Refund Policy
Contact the organizer to request a refund.
About this event
⚠️ This webinar offers peer-inspiration, facilitated exploration, and moderated dialogue.
How do technologies like Artificial Intelligence, Robotics and Blockchain impact future HR professions; how are trends in society impacting the future of work and resources management; what other signals define the Future of Human Resources Management?
Are you in an hr-strategy or leadership role, do you enable talent management or career development in your organization, are you recruiting today's professionals to have your organization successful today, and in the future?
In our fifth Talent-Sprint Webinar, we invite you to explore together - inspired and guided by our guest Marcus Liehr (founder zagmates, Strategy & Innovation explorer) - the future of HR, by framing different possible futures, and identifying signals to trigger the future from today onwards
A 90-minute interactive session (afternoon for CET participants) where you can actively participate on this topic and frame your mind.
AGENDA
Arrivals & check-in
Welcome and introductions by Jeroen Frumau
Interactive Exploration Future of HR, guest facilitator Marcus Liehr
Joint discussion & reflection
Next steps to the future
Closure
Note: this is an all-virtual event using ZOOM and MURAL (digital-whiteboard) as online tools to engage and collaborate. Log-on details will be provided upon registration and prior to the event.
For who is this webinar?
HR leaders & executives
HR Strategists
HR Consultants
Talent-Acquisition professionals
Students & researchers in the field of HR
Two ticket types
Claim your FREE ticket, or be generous to claim a DONATION ticket. All proceeds will be donated to 4better2morrow - a non-profit initiative that empowers the young generation with 'future-skills'. 4B2M offers participants online learning experiences where they connect with international young people, work on global issues to discover, develop and strengthen vital skills for their future.

About Marcus Liehr
Marcus is an innovation and strategy consultant, trainer and facilitator and the managing director of zagmates. He helps small and medium-sized companies to innovate with impact. In his work, he is on the one side enabling organizations to create impactful innovation, e. g. with Design Thinking and Futures Thinking. On the other, he focuses on setting up systems to measure and track innovation progress and impact. Holding a doctor´s degree in Marketing and Economics (Ph.D.), these two views on innovation have been driving him for more than 20 years. Prior to starting zagmates, Marcus held different management positions in globally operating enterprises.
About our Talent-Sprint Webinars series
The Talent-Sprint supports organizations recruiting differently. Instead of resume- and vacancy-driven talent-acquisition, we offer human-centered experiences where active and passive career seekers engage on a live stage with inspiring purpose-driven organizations.
Following a series exploring today's early career professionals, we now curate a series of FREE webinars to explore the future of HR. As before, we will invite guest contributors and our events are open to all, although may target an HR-pro oriented audience.
Register HERE in case you want to receive upcoming Webinar announcements
Your webinar hosts and moderators
Sabrina Goerlich - design agency owner - is a highly experienced design sprint facilitator, trainer, and co-founder of the Talent-Sprint.
Jeroen Frumau - former head of design operations at Philips Electronics - is a passionate talent-match maker and co-founder of the Talent-Sprint.
Emmanuelle Nechifor - brand strategy & workshop enthusiast - loves to unlock superpowers and is responsible for new business development at the Talent-Sprint.