Description
We are super excited to announce that we will be hosting the Every Angle Summit, our annual Customer Day, on Thursday November 8, 2018 at Inspyrium, Cuijk!
This event is designed to update you with the latest news in the area of SAP, Supply Chain, IT and discuss technology trends. At the same time, we want to give you the opportunity to engage with our customers, partners, consultants and Management Team.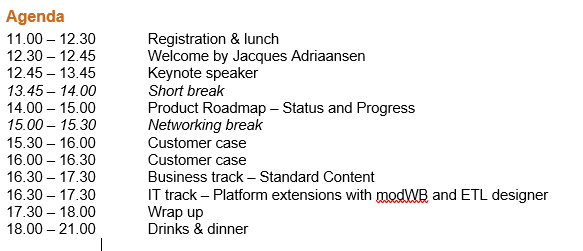 If you'd like to join this event, please complete the registration process. A confirmation email will be sent to your email address. We have limited places available, so be quick and save yourself a seat for this great event!
If you did not receive your confirmation email or if you have any questions, please contact Marketing Manager Ms. Shane Badeloe via S.Badeloe@everyangle.com. You can contact her in Dutch or English.
Feel free to share this event within your network, or with a co-worker that might be interested to attend the Every Angle Summit.
On Twitter, we will be using the hashtag #EASummit18. Join the conversation!
For an impression of last year's event, click here.
We are looking forward to meeting you on November 8th!
---
Date: Thursday November 8, 2018
Time: From 11.00 until 21.00
Location: Inspyrium, Beerseweg 45, 5431 LB Cuijk (The Netherlands)
Website: www.everyangle.com
---