Sales Have Ended
Registrations are closed
Please contact the event organizer Shane Badeloe via S.Badeloe@everyangle.com. You can contact her in Dutch or English. Or give her a call via +31 (0)182 577 744.
Sales Have Ended
Registrations are closed
Please contact the event organizer Shane Badeloe via S.Badeloe@everyangle.com. You can contact her in Dutch or English. Or give her a call via +31 (0)182 577 744.
Description
We are super excited to announce that we will be hosting the Every Angle Summit - our annual Customer Appreciation Event - on Thursday November 8th, 2018. The event will be hosted at a fantastic green and sustainable congress centre - the Inspyrium in Cuijk, The Netherlands.
The event is designed to update attendees with the latest news in the area of SAP, Supply Chain, IT and discuss technology trends. At the same time, we want to give you the opportunity to engage with our customers, partners, consultants and the Every Angle, Magnitude and Innowera Management Team.
Joining this event will give you the opportunity to:
Join the Every Angle Solution presentation and learn what the future holds

Learn about new exciting features & our new Process Mining Solution

Learn about Innowera's solution

Engage with other Every Angle customers from several industries

View customer case studies and learn from industry leaders

Expand your knowledge on our Products & Services

Explore the latest technology trends and innovations
---
Keynote presentation by Ronnie Overgoor: 'The right mindset for success'
The business world is changing rapidly: we can print in 3D, robots are on their way and everything is connected to the internet. As entrepreneurs, how do we remain successful, both now and in the future? And what mindset do we need for this?
In a showstopping performance, Ronnie Overgoor transports you to the world of tomorrow. He shows you what qualities you can use to develop the right mindset to achieve success and to remain successful as well!
What do these developments mean for the Dutch business world and, in particular, what do they mean for the entrepreneurs or the professionals themselves?
The keynote offers a variety of ideas and inspiration, using a lot of visual material and videos to good effect, not to mention a great deal of energy, enthusiasm and humour.
About Ronnie Overgoor
Ronnie is an interviewer with his own individual style. He is well prepared and curious and switches as quick as a flash between serious questions and a sharp sense of humour. He enjoys open, genuine conversation, always showing respect to the interviewee.
Ronnie has more than ten years of experience as an interviewer, on stage in front of a live audience as well as in front of the TV cameras at stations such as 7 Ditches TV.

Ronnie's appearances as a trendwatcher ensure full auditoriums and he has opened the eyes of more than 10,000 entrepreneurs.
Imagine a blend of trendwatcher, stand-up comedian and entrepreneur – that's Ronnie Overgoor. Always greatly appreciated, with an average rating in excess of 8, you can rely on Ronnie to provide positive energy and plenty of inspiration and ideas.
---
We will also give two of our customers the opportunity to take the stage and share their experiences with Every Angle.
Customer case study - Aspen Pharma
During this session, Simon van Dingstée, Supply Chain Director at Aspen Pharma Oss, will share experiences on the implementation of Every Angle.
Customer case study - ABB: Reduce Dead and weak stock with help of Every Angle
With Every Angle it is easier for ABB to manage dead and weak stock. The control tower makes it possible to drill-down from dashboard to action lists. Dick Lokhorst, Product Marketing Support at ABB will explain this during this session.

---
Exciting new solution: Every Angle Process Mining!
During this year's Summit, we will launch an exciting new solution: Every Angle Process Mining! With this solution, you will be able to get even more insights into how your current business processes are running. Process Mining is a smart technique which draws a process graph based on what is actually happening in your system. It provides Data Scientists and Business Analysts with advanced throughput time analysis, bottleneck detection, root cause analysis and more - all presented in beautiful process graphs. Eric Pols, Consultant at Every Angle will be demonstrating this new solution.
---
The day will be ended with a delicious dinner with live music. You don't want to miss this great tech event! Registration for this event is free of charge and secures a seat at the event. We have limited places available. Below you can find more information about the event. Note: please register with your business email address as this is a business-only event.
If you have any questions regarding this event, your registration or if you need a hotel recommendation (we have discount vouchers), you can contact the Event Organizer Shane Badeloe directly via S.Badeloe@everyangle.com. She will be happy to assist you. Below more information about the agenda.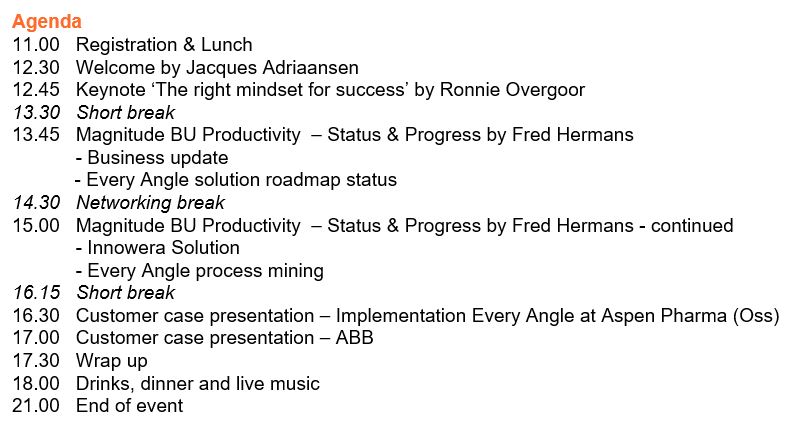 If you'd like to join this event, please complete the registration process. A confirmation email will be sent to your email address. We have limited places available, so be quick and save yourself a seat for this great event! Registration will close on Thursday November 1st.
If you did not receive your confirmation email or if you have any questions, please contact Marketing Manager Ms. Shane Badeloe via S.Badeloe@everyangle.com. You can contact her in Dutch or English.
Feel free to share this event within your network, or with a co-worker that might be interested to attend the Every Angle Summit.
On Twitter and LinkedIn, we will be using the hashtag #EASummit18. Join the conversation!
For an impression of last year's event, click here.
We are looking forward to meeting you on November 8th!
---
Date: Thursday November 8, 2018
Time: From 11.00 until 21.00
Location: Inspyrium, Beerseweg 45, 5431 LB Cuijk (The Netherlands)
If you come with public transport: a free shuttle bus will take you from Cuijk Station to the event location and back.
Website: www.everyangle.com
---