Description
We are super excited to announce that we will be hosting the Every Angle Summit, our annual Customer Day, on Thursday November 8, 2018 at Inspyrium, Cuijk!
This event is designed to update you with the latest news in the area of SAP, Supply Chain, IT and discuss technology trends. At the same time, we want to give you the opportunity to engage with our customers, partners, consultants and Management Team.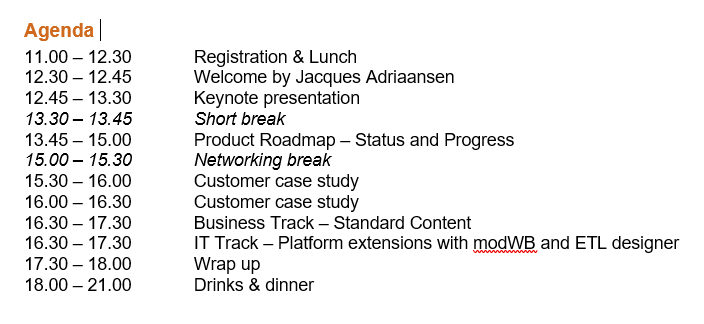 Business track - Standard Content
During the business breakout, we walk you through our new R2019 version. During this session, we will also have a look at our development plans for the near future. The business breakout session will give you a good understanding of the added business value Every Angle can deliver to your company. The session will be presented by Lucien van Zundert, Senior Consultant & Project Manager at Every Angle.
IT track - Platform Extensions with ModWB and ETL designer
In release 2018, a full featured ETL server has been integrated into the Every Angle suite adding the opportunity to include data from any data source in the Every Angle model.
Right now Every Angle is working hard to create a guided environment for maintaining the object model. With this new product, called 'Modelling Workbench' customers will get the opportunity to adjust and extend the data model so that data from any source can be easily incorporated in the Every Angle self service solution.
In this workshop, we will go trough the process of adding additional SAP and non SAP data to an existing Every Angle installation and creating simple calculations. You will get an introduction how the ETL solution can be used to source additional data, and how the Modeling Workbench can be used to extend the Every Angle Model Definition to include additional data. The session will be hosted by Bart van Dongen, VP Product at Every Angle.
If you'd like to join this event, please complete the registration process. A confirmation email will be sent to your email address. We have limited places available, so be quick and save yourself a seat for this great event!
Note: please register with your business email address as this is a business-only event.
If you did not receive your confirmation email or if you have any questions, please contact Marketing Manager Ms. Shane Badeloe via S.Badeloe@everyangle.com. You can contact her in Dutch or English.
Feel free to share this event within your network, or with a co-worker that might be interested to attend the Every Angle Summit.
On Twitter, we will be using the hashtag #EASummit18. Join the conversation!
For an impression of last year's event, click here.
We are looking forward to meeting you on November 8th!
---
Date: Thursday November 8, 2018
Time: From 11.00 until 21.00
Location: Inspyrium, Beerseweg 45, 5431 LB Cuijk (The Netherlands)
Website: www.everyangle.com
---