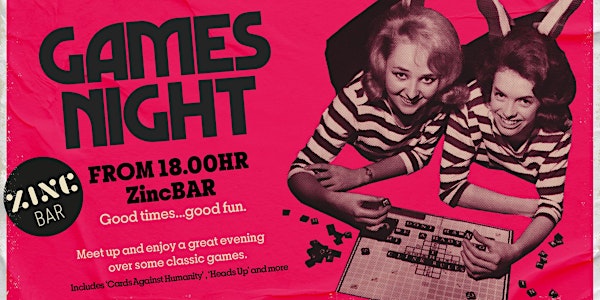 Expats Games Night
Hello AIC Gamers!!! Every last Sunday of the month, ClinkNOORD will be welcoming AIC group for a games-night.
By AIC - Amsterdam International Commnunity - Expats
Date and time
Starts on Sunday, May 7 · 6pm CEST
Location
ClinkNOORD 3 Badhuiskade 1031 KV Amsterdam Netherlands
About this event
Hello AIC Gamers!!!
Every first Sunday of the month, ClinkNOORD will be welcoming AIC group for a games-night: Meet new friends around a board game or around Mario Kart on the wii!🎮🕹
There will be a nice asortment of board games 🎲♟that you will be able to pick!🧩🎯
On all these days the staff of ClinkNOORD will welcome all AIC guests, hand over a wristband (so people of AIC can recognize themselves) and point them to the right place where the event takes place.
It's your chance to bring out your inner child and have a fun time while you meet new friends and exchange your tricks to win the best games.🤩
WHERE DO WE MEET
CLINKNOORD Badhuiskade 8, 1031 KV, Amsterdam
WHEN IS THE EVENT
SUNDAY 07 May, from 18:00
TICKETS & AIC Card
- Free entrance for everyone!!!
How does it work
When you arrive, head to the reception and tell the crew of the hostel that you are coming from AIC Expats group for the Games night, They will guide you to the right place where to meet and play with the rest of the group! Then your are going to have a lot of fun and maybe you will remember old times when to have to wait for weekends to play with your friends was your only worry!
See you at CLINKNOORD!
IMPORTANT! The amount of attending people that you see on this website is not fully representing how busy the event will be. Since AIC events are promoted on several platforms, the attendance is the result of the combination of the bookings coming from each platform.
About the organizer
Become part of a vibrant network of people! Whether you are an expat, Dutch who's internationally oriented, or a visitor—everybody is welcome!

We organize expat events of every shape and form—parties, after-work drinks, boat trips, networking, housing services, expat sporting activities, cinema, language exchange, expat meetup, food workshops, and more.

We are inclusive and open to people of different nationalities and backgrounds.

Follow AIC and become part of a vibrant network of people! Our community shares common passions, pursues similar interests, and contributes with their knowledge and experience to create valuable connections and foster new friendships.