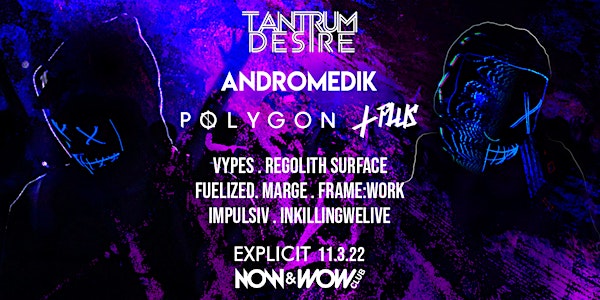 Explicit | Drum & Bass w/ Tantrum Desire, Andromedik & more!
Explicit | Drum & Bass w/ Tantrum Desire, Andromedik & more!
When and where
Location
Now&Wow Club 1 Maashaven Zuidzijde 3081 AE Rotterdam Netherlands
About this event


The night is back in our hands!
After 2 years of preparation, of tears and sweat, of love and anger, it's finally our time to rave without limitations once again!
Finally introducing to you our first edition of Explicit, a brand new Drum & Bass event in Rotterdam the Netherlands.
Kicking off our new event we welcome you on Friday March 11th at the top of one of the oldest grainsilos in Europe and one of the most iconic buildings in Rotterdam, A nightclub like no other.
Formerly known as the legendary Factory010 now it resides the Now&Wow Club.
Combining the force of local and international DnB and audiovisual talents this is bound to be one you don't want to miss!
A night filled with Liquid to Neuro and from Dubstep to Jump up, paired with an unforgettable show, we'll have it all!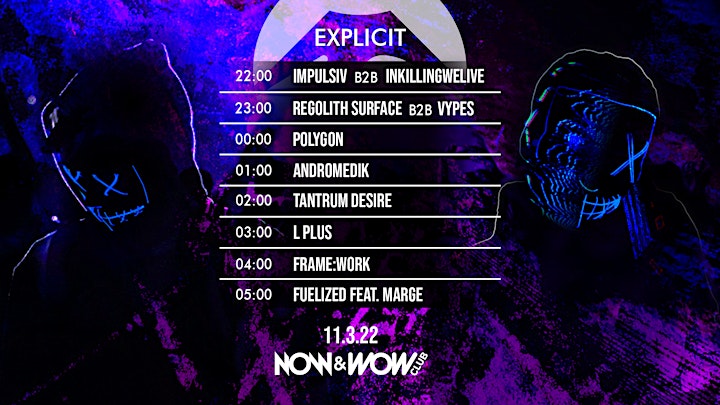 ADDITIONAL INFO
This event has an age restriction of 18+
A negative covid test results is required to gain entry to the venue, so remember to bring a valid test result
Remember to bring a valid id
Tickets are only available online
There are lockers available within the venue, total price is 10 euro's of which 5 euro's will be a deposit returned to you when retruning the key safely
There is food available within the venue
You are not allowed to bring your own food or drinks
You are not allowed to bring soft or hard drugs
The event starts at 22:00 and will finish at 06:00, the doors close at 03:00.
Upon entry all guests and staff must be in possession of a valid negative covid test. Down below we've explained the way to get one*.
Head over to www.testenvoortoegang.org,Select as reason: 'Event, for example a festival', fill in the other options,Select the start date and time of Explicit,
Fill in your nearest location,
Select the date, location and time of your appointment and confirm it using a text message,
The test result can then be put into an app called 'CoronaCheck' which can be used to display your QR code upon entry.
* Other tests that can be shown in QR format (as long as you are within Europe) should also work fine.
The Now&Wow club can optimally be reached by foot, bicycle and public transportation (Station Maashaven by metro, tram and bus). The venue can also be reached by car but do be aware there usually are limited parking spots available (and make sure to drive safely).
When you arrive at the Maassilo from the station side, head over to the pier on the side of the building and find the entrance to the Now&wow club just a few steps ahead of you!
For extra information we advise you check our socials or website:
https://www.explicitevents.nl/first
www.facebook.com/Explicitrave
www.instagram.com/Explicitrave