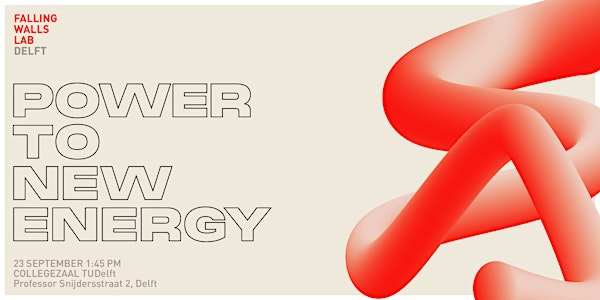 Falling Walls Lab Delft 2022
Interested in seeing your peers present their ground breaking projects? 3 minutes is all they'll have to convince the high caliber jury!
When and where
Location
Professor Snijdersstraat 2 2 Professor Snijdersstraat 2628 RA Delft Netherlands
About this event
THE GLOBAL INTERDISCIPLINARY PITCH COMPETITION FOR STUDENTS AND EARLY-CAREER PROFESSIONALS
Three minutes is all it takes! Falling Walls Lab is a world-class pitch competition, networking forum, and steppingstone that brings together a diverse and interdisciplinary pool of students and early-career professionals by providing a stage for breakthrough ideas both globally and locally. The multifaceted format supports participants in driving their innovations and develops their communication skills, fostering collaboration and creating a space for the impactful and sustainable community to thrive. #FallingWallsLab
The international network of Falling Walls Labs includes renowned academic institutions from over 60 countries. The ETH Zürich, National University of Singapore, and University of Cape Town are only a few of the universities that have recently participated in the Falling Walls Lab programme.
Falling Walls Lab is organised by the Falling Walls Foundation and generously funded by Berlin's Natural History Museum (global finale), and Google and Huawei (international Labs). It is supported by the Federal Foreign Office of Germany and the German Academic Exchange Service (DAAD).
Learn more about the project:
www.fwldelft.com
https://falling-walls.com/lab/