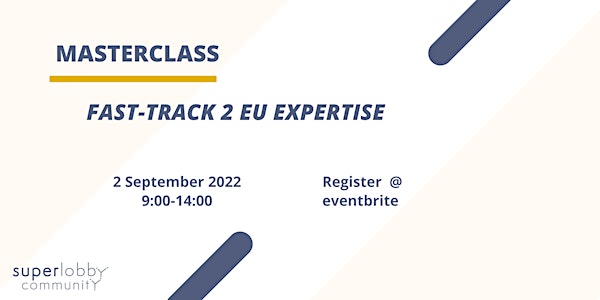 Fast-track 2 EU expertise: word in de kortst mogelijke tijd een EU-expert
Welkom in Brussel! Deze training bereidt studenten en stagiaires voor op een vliegende start in de EU-Bubble
When and where
Location
Holland House Brussels Holland House Brussels. Rue d'Arlon 20 1050 Bruxelles Belgium
Refund Policy
Contact the organizer to request a refund.
Eventbrite's fee is nonrefundable.
About this event
Ben je een starter of stagiair in Brussel of in Nederland, en heb je te maken met EU affairs? Wil je kennis maken met de vaardigheden die nodig zijn in EU public affairs? Wil je een stap voor zijn en vanaf dag één waarde toevoegen aan je organisatie? Wil je je netwerk vergroten en vrienden te maken?
Of is jouw organisatie actief in Brussel en werk je veel met stagiair en/of starters? Moet je telkens weer deze starters en/of stagiairs inwerken? Wil je hen een vliegende start laten maken en bovendien hun "Brussels-experience" aangenamer en leuker maken? Bijvoorbeeld door meteen hun netwerk te vergroten?
Schrijf ze dan in voor deze masterclass in samenwerking met Holland House Brussels! Tijdens deze intensieve training leren uw stagairs dé vaardigheden om meteen mee te kunnen lopen in Brussel. Bovendien boren ze een leuk en interessant netwerk aan- waar u en zij profijt van hebben.
Deze praktische masterclass is bedoeld om stagiaires en studenten de kennis en vaardigheden te geven die nodig zijn als stagiair/junior in EU affairs. De volgende elementen worden behandeld:
Opfriscursus & 'deep dive': hoe de Europese instellingen werken en hoe met hen samen te werken (wetgevingsprocessen in detail & spelers)
Hoe EU beleid en wetgeving te monitoren en te analyseren
Hoe een succesvol belangenbehartigingsevenement in Brussel te organiseren
Hoe een beleidsbrief te schrijven
Shortcuts naar succes
De masterclass wordt afgesloten met een netwerklunch.
Na afloop ontvang je een bewijs van deelname.
Waarom je mee moet doen:
1. Je krijgt een goed beeld hoe Brussel werkt, en wat nodig is om succesvol te worden.
2. Je krijgt de kans om je netwerk te vergroten. Na de masterclass houden we contact en word je uitgenodigd voor exclusieve evenementen waarmee je ook alumni van andere klassen kunt ontmoeten.
3. Kleine groepen, en daardoor wordt er veel persoonlijke aandacht gegeven.
4. Het programma bevat real-life case study's en je krijgt praktische tips die je direct kan toepassen in je werk/tijdens je stage.
Gemiddelde beoordeling: 9/10 op voormalige masterclasses
Wat recente voormalige deelnemers zeiden:
"An extremely interesting and useful training! From the part on the sociology of the different actors of the Brussels bubble to the practical tips on monitoring, every moment was used to get the most out of this training day. A real asset for all young professionals starting in EU affairs. Kudos to the limited number of participants and the professionalism and kindness of Shannon and Milos!"
"The EU super interns masterclass was a useful opportunity to refresh my knowledge of the EU institutions work just before the start of my traineeship as a policy officer at the European Boating Industry. The masterclass enabled me to effectively use policy monitoring tools and filter out what was truly relevant for the advocacy work of my team. I even organised an event with EU policy-makers and members of the academia for which the insights provided by the masterclass were very useful."
"In de eerste week van mijn stage heb ik de masterclass gevolgd. Het was enorm waardevol omdat de masterclass mij meer inzicht gaf over hoe de verschillende Europese instanties met elkaar samenwerken, maar ook hoe zij van buitenaf beïnvloed kunnen worden door bijvoorbeeld gericht te lobbyen."