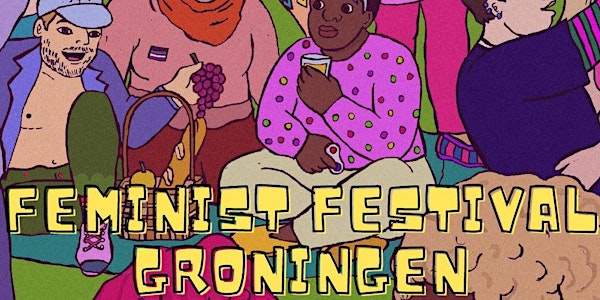 Feminist Festival Groningen 2022
A gathering for intersectional feminist ideas, where we create a safe(r) space to interact and build community
When and where
Location
EM2 VENUE 6 Suikerlaan 9743 DA Groningen Netherlands
About this event
As we are currently living through multiple crises caused by capitalism, we need to come together to organize against these injustices on a local and global level.
The 'Feminist Festival Groningen: Siblings in Solidarity' is the first political and feminist festival in Groningen to address this. During this one-day festival we will learn about different forms of oppression, their mechanisms, and impacts on the lives of humans, other animals, and the environment to form a basis for collective organizing in and around Groningen.
That's why we have invited the finest local activists, artists, academics, and community members to give workshops, lectures, and performances for you to enjoy. In these various settings we wish to rethink normative standards, explore tools for transformative left organizing and share intersectional solutions.
Besides wanting to build a strong local activist community, we aim to create inclusive and safe(r) spaces in which we can share the experiences affecting us and our communities.
Who is welcome at this festival?
You are welcome at this festival if you are respectful and caring towards others. This is not a space to discuss the existence of oppression against marginalized groups. We do not tolerate any form of racism, sexism, queerphobia, ableism, cultural appropriation, or harassment. There will be exclusive spaces for BIPOC*, disabled, and LGBTQ+ individuals.
*Black, Indigenous and People of Color
Accessibility
We gave our best in making this event as accessible as possible. There are unfortunately a few things that we are not able to provide, such as a sign-language interpreter. The venues in the first slot from 10.00 to 11.30 are not wheelchair accessible, however there is the option to join the talks online. The main venue, EM2, is largely accessible: there are wheelchair accessible bathrooms and lots of places to sit down. The outside space is wheelchair accessible as well. However, there is some gravel surrounding the venue and on the terrain itself.
If you have questions, concerns, or specific accessibility needs, please do not hesitate to contact our accessibility advisor maartjereggin@gmail.com
Slot 1: 10.00 am to 11.30am
There are separate tickets for events being held between 10:00 - 11:30, as these events have separate capacities and are located at different venues. Events DT and ISG occur simultaneously. Therefore, you can only attend one of these events. In case you want to participate in these events, do add the respective ticket in addition to the General Admission ticket. Kindly note that the locations for the events between 10:00-11:30 are not wheelchair accessible.