Description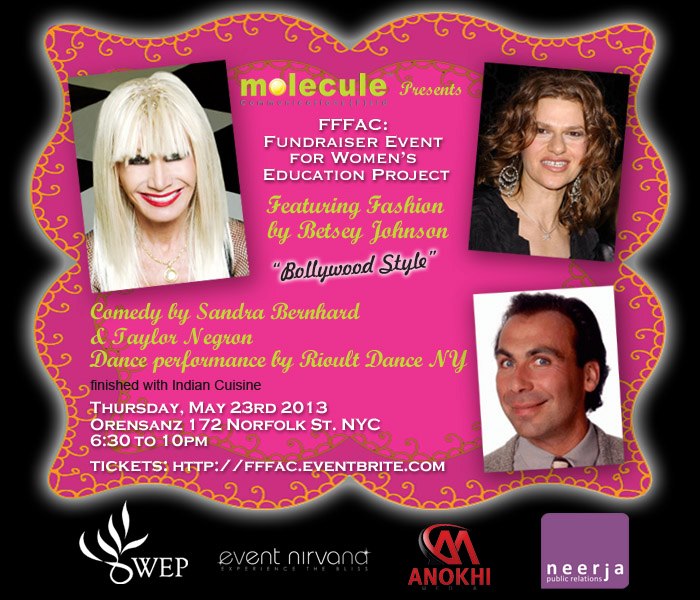 Molecule Communications Presents
FFFAC: Fashion Fiesta For A Cause

A fun-filled evening with Bollywood Betsey Johnson,
dance, comedy and spice
FASHION by Betsey Johnson "Bollywood Style"
The designer revisits her closet bringing never seen before vintage pieces to sashay down the runway- Bollywood style
LAUGHS with star comedians Sandra Bernhard and Taylor Negron

DANCE by Rioult
SPICE with Indian Cuisine
MOVE & GROOVE to Dhol, Bollywood Beats and Bhangra

When: Thursday, May 23, 2013
Time: 6.30pm to 10pm

Fashion Fiesta For a Cause (FFFAC): A fundraising event hosted by Molecule Communications brings celebrity and fashion together to raise funds for students of Women's Education Project (WEP), a non-profit organization helping young women living
on less than $1 a day in India, to succeed in college and careers.
The event will fund 100 students' college education for 2 years.
By adopting these girls you help change their lives (and get brownie points with good Karma!). In addition to your amazing contribution to WEP, we promise a festive evening where you will meet amazing people, have a great time and you'll go home very happy for your very well spent donation.
The proceeds from the Gala will help these young women receive:
College Scholarships

Academic Tutorial Sessions

Computer Lab and Library

Life Skills Training (finance, health, civics)

Daily Nutritional Supplements

Career support

A Supportive Community – friends
Every guest will receive a complimentary 1 year digital copy of North America's longest running South Asian fashion, lifestyle and entertainment glossy: ANOKHI MAGAZINE.
The Donation you make for the tickets are tax deductable Women's Education Project is a 501(c)3 not-for-profit organization registered in the State of New York.