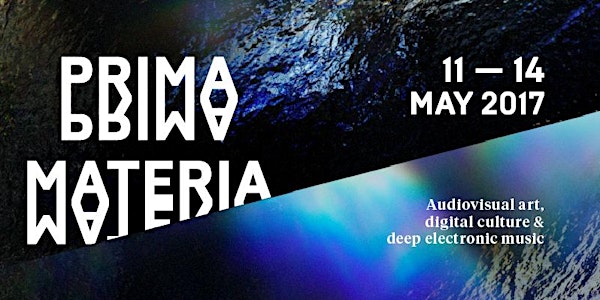 FIBER Festival 2017
When and where
Location
Brakke Grond Nes 45 Shelter Club Amsterdam, KD 1012
Description
FIBER festival dates: 11-14 May 2017
FIBER Festival attracts over 50 participating speakers and artists, 2500 visitors and a wide selection of local companies and organizations, who will connect to the city of Amsterdam to create a dense program of audiovisual performances, live / DJ, installations, conference talks and labs. Through the lens of cutting-edge artistic works, FIBER explores the impact of technology on culture, society and nature.
Fiber Festival is a day-to-night, digital art and design festival, Which includes an exhibition of 15 interdisciplinary artists and designers-including, Semiconductor (UK), JODI (NL) and MFP (UK), Quadrature (DE), Ralf Baecker (DE) and Monique Grimond (US / UK) , who question and reimagine the relationship between man, technology and matter.
A conference of 30 plus speakers-including artist-programmer Memo Akten (TR / UK) , Academic researcher and writer Jussi Parikka (FI / UK) and artist-designer Femke Herregraven (NL) , amongst many others, will Discuss the influence and applications or bots and artificial intelligence; the relationship between deep time , matter and technology; and the optimization of thinking 'in our western culture.
This stimulating three-day program flows into a two-night AV & music performance program, Which includes the premiere of The Mylar Topology by British artist Paul Prudence (UK) , a hypnotic journey through a liquid universe, and a DJ set by the underground techno duo natural / electronic.system (IT).
Surrounding this stimulating program the FIBER Festival hosts four workshops-including the internationally renowned Choreographic Coding Lab from Motion Bank (The Forsythe Company) and ongoing informal presentations with up and coming artists and creators.
Festival Theme 2017
The theme Prima Materia showcases artists and designers who question and reimagine the relationship between man, technology and matter. Technology has a profound effect on nature and can help us find a sustainable and emotional relation with the Earth. At the same time it is getting harder and harder to predict our future as a human race in the context of fast technological developments or things like artificial intelligence, big data and decentralized networks - developments That feel almost like organic, all-encompassing forces of nature . The Human Scale and the tools That we use to interpret the world with free-radically trans are being formed. We Seem to be caught in the middle of invisible forces.
Program
The full FIBER experience includes an extensiveness two-day program or conference talks, a public exhibition (free entrance), two nights or AV performances and live electronic music.
Conference: Friday 12/5 and Saturday 13/05 - De Brakke Grond

Evening Concert 1: Friday 12/5 - De Brakke Grond

Evening concert 2 + Club Night: Saturday 13/5 - Shelter

Closing Evening: Friday 14/05 - location tbc

Exhibition: Friday 12/5 - Sunday 21/5 - Looiersgracht 60

Exhibition Opening: Thursday 11/05 - Looiersgracht 60 (evening)
Check the full program at www.fiberfestival.nl
tickets
You can visit the exhibition FIBER Prima Materia (free entrance) from Friday 12th of May till Sunday 21st of May, except Monday 15th and Tuesday 16th of May. Opening hours 12:00 to 20:00. The public opening is scheduled at 17:00 on Thursday May 11th.

You want the full package FIBER? Look for the Passe-Partout tickets.
<