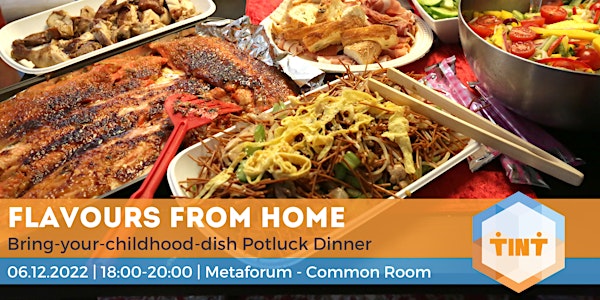 Flavours of Home Potluck
TINT invites you to a nostalgic potluck this cold December evening to reminiscent about your childhood and eat some amazing food.
When and where
Location
MetaForum Building - Common Room - Ground Floor Groene Loper 3 5612 AE Eindhoven Netherlands
About this event
Remember the smell of dinner when you used to arrive home from school?
The taste of your childhood delights?
We all have dishes that deeply defined our childhood, ones that we always used to eat. Cooking is a way to increase your creativity and build your self-esteem.
Food is of course always meant to be shared.
TINT invites you to a big cozy dinner this December where you can reconnect with your inner child. Bring your favorite childhood dish and share it in our "Flavours of Home" themed potluck! The potluck will be in the Common Room on the 6th of December 18:00-20:00.