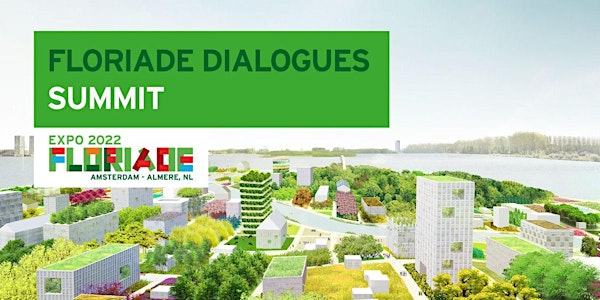 Floriade Dialogues Summit: green and healthy food cities for all
When and where
Location
KAF, Kunstlinie Almere Flevoland Esplanade 10 1315 TA Almere Netherlands
Description
It is a pleasure to announce the first international Floriade Dialogues Summit on green and healthy food cities for all!
How do we build these green cities and how far off are we exactly? How does the availability and access to good, healthy food influence what we eat? And what is the best way to build cities and supply them with good food? Expect a lively scientific dialogue alternated with inspiring cases and best practices from international scientists, activists and creatives!
Date: 28 March 2019 | 09.00 - 17.45
Location: Almere, The Netherlands
Language: English
Registration: Free

PROGRAMME


Prof. Raj Patel (UK / India)
'Rockstar' of social justice and food and award-winning author of 'stuffed and starved'.

Charles C. Mann (USA)
Journalist and award-winning author of The Wizard and the Prophet (2018).
Prof. ir. Adriaan Geuze (NL)
Leading landscape architect, urban designer and founder and owner of West 8.
Nadia Zerouali: live cooking show & lunch
As a resident of Almere, Nadia will tell you more about local flavours and ingredients and of course you get to taste them!
Talks of the Town
What is going on around the globe in terms of green and healthy food cities for all? During the the talks of the town we serve you many inspiring cases from people all around the world! Read all about the Talks of the Town.

Detroit with fearless farmer Devita Davison
Oosterwold with researcher Jan Eelco Jansma & area director Werner Brouwer
Trinidad and Tobago with Alpha Sennon, agri-entrepeneur and founder of Whyfarm
Amsterdam with researchers Onno van Schayck & Jaap Seidell
New York City with health professor Nevin Cohen
Turin with professor Egidio Dansero
Harare with social entrepeneur and mushroom growing activist Chido Govera




About the Floriade Dialogues Summit
The Floriade Dialogues Summit is an annual conference and an introduction to the Floriade 2022 themed green, food, health and energy. The goal is to create a platform for scientific debate and international exchange. The Floriade Dialogues Summit is an initiative of Floriade B.V, Flevo Campus and the Province of Flevoland.