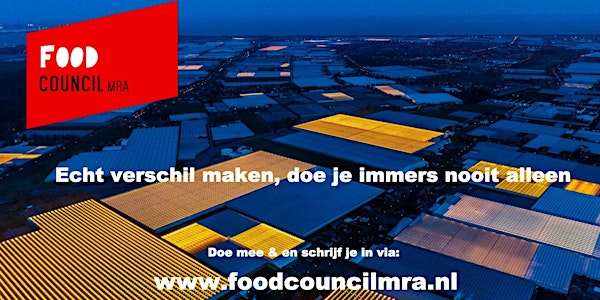 Flows of Food
When and where
Location
Beurs van Berlage 243 Damrak 1012ZJ Amsterdam Netherlands
Description
Flows of Food; kick off of the Food Council for the Metropolitan Region of Amsterdam (FC-MRA)
"Flows of Food" is the first conference on Food Policy. December 7, 2017 at the Beurs van Berlage in Amsterdam. Check the website: www.foodcouncilmra.nl.
A unique program with first class key-notes and ample opportunity to meet with top dogs and pioneers in the food scene. Don't miss our key-note Wayne Roberts, one of the first and powerfull thinkers on Food Policy. Roberts incorporates 20 years of profound practical experience and knowledge in developing food councils. His body of thoughts have spread from New York to Milan.
At the moment more and more metro areas are adopting a food policy in order to fight food related issues more effectively. The essence of food councils boils down to the core question: how to feed nine billion people and keep intact spaceship earth? According to Wayne Roberts the key to a comprehensive sustainable solution rests in metropolitan areas. On the one hand these globalized locations represent the broken food system, in terms of food waste, logistics, obesity, even poverty and injustice. On the other hand these metro areas are also the epicentre of knowledge, creativity, technology and social capital.
7 december
Flows of Food
Location Amsterdam, Beurs van Berlage
09:00 - 09:15 Opening chairman of the day Hassnae Bouazza
09:05 - 09:15 Jaap Bond Provincial executive North Holland
09.15 - 09.20 Introduction video

09.20 - 10.00 Wayne Roberts PhD (Toronto)

10.00 - 10.20 Break

10.20- 10.40 Jan Willem van der Schans Phd. WUR

10.40 - 11.10 Lori Stahlbrand PhD.

11.10 - 11.30 Rob Baan

11.30 - 11.45 Jan Nico Appelman Provincial executive Flevoland

12.00 - 13.00 Lunch

13.00 - 14.00 Breakout session 1; 6 pitches

14.00 - 15.00 Breakout session 2; 6 pitches

15.00- 16.00 Breakout session 3: 6 pitches

16.00 - 16.30 Panel discussion

16.30 - 16.45 Food Charter FCMRA

16.45 - 17.30 Network / Drinks
---
Food and the City is an intergrated part of the program of Flows of Food but takes place in Almere. For more information and tickets please visit the Flevo Campus Live site. Click here http://flevocampus.nl/2017/10/10/8-december-2017-flevo-campus-live/
8 december Day 2:
Food and the City – local utility and necessity
Location; Almere
09.00 – 14.30 Workshops - challenges
14.30 – 16.30 Inauguration Sigrid Wertheim lecturer 'Food and healthy life'
16.30 – 17.00 Break with activities
17.00 – 17.30 Closing of the conference. Reflections and recommendations by Wayne Roberts on the regional and local food policy in the MRA.
17.30 End, networking and drinks