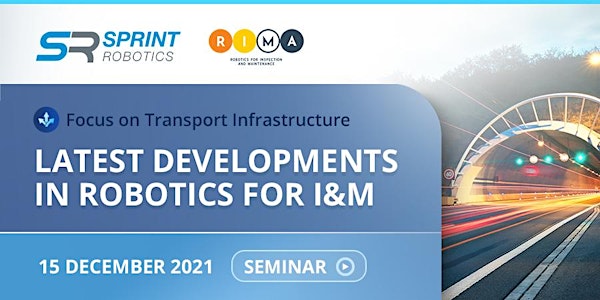 Focus on Transport Infrastructure: Latest Developments in Robotics for I&M
Robotics for I&M can play a significant role in keeping the transport infrastructure operational
About this event
Transport infrastructure is a critical ingredient in economic development. Transport infrastructure consists of different assets, such as roads, railways, bridges and tunnels, many of them heavily operated and with difficult access. Keeping the infrastructure safe and operational is key to society, however I&M can be costly and dangerous. Some of the assets require sspecial and expensive equipment, such as under-bridge cranes, rigging or divers, not to mention that interference should be avoided as much as possible.
Robotics for I&M can play a significant role in keeping the transport infrastructure operational. Robotics can contribute through increased collection of reliable data in remote, inaccessible or hazardous environments in a manner which is safe, efficient and cost-effective.
Continuing the industry events of spring 2021, SPRINT Robotics and RIMA Network will co-host an online seminar "Focus on Transport Infrastructure: Latest Developments in Robotics for I&M" December 15th 14:00 CET.
The seminar is free of charge, registration is required.
Program
14.00 Welcome & Introduction
14.10 Using Robotics for Graffiti Removal, Jack Cornes, Hausbots and Tom Tideswell, Kier highways
14.30 Autonomous Waterborne I&M Arjen de Jong, Aquatic Drones
14.45 Autonomous aerial radiography (NDT) of railway infrastructure Akhilesh Goveas, SpectX
15.00 Piloting Project Sigurd Mørkved Albrektsen, SINTEF
15.15 Data Based Mission Planning for Humans and Robots Dr Ilona Schöting, Analytics Pika
15.30 RIMA Project: 3RC (RRRc) Béatrice Rivalier , VLM Robotics
15.40 RIMA Project: GreenBee Gintautas Nedzveckas, Thrust
15.50 RIMA Project: ACIDRONES Carlos Martin, VES Robotics Applications
SPRINT Robotics
The SPRINT Robotics Collaborative is a global, not-for-profit, industry-driven organization which focuses on the development, availability and application of robotics techniques in technical inspections and maintenance of capital-intensive infrastructure. Founded in 2015, the collaborative has developed into a strong organization with a strong support base of more than 100 organizations globally. It has become the internationally recognized platform for Inspection & Maintenance Robotics. One major focus of SPRINT Robotics is to engage and bring together the whole value chain, from end users to service and technology providers.
RIMA
RIMA is a 4-year project, funded by European Horizon2020 program, facilitating the innovation of robotics in I&M in Europe. RIMA connects and inspires key stakeholders in I&M robotics and aims to accelerate innovation and uptake of robotics between these stakeholders with the support of Digital Innovation Hubs. RIMA focuses on six industries; Water, nuclear, energy, oil&gas and chemical, transport routes and buildings, Transport, cargo and mobility.