SPRINT Robotics and RIMA Network will co-host "Focus on water: Advancing robotics for I&M in water intensive industries" II.
About this event
Focus on water: Advancing Robotics for I&M in Water-intensive Industries II
Safe and reliable access to water is a critical enabler for many industries. As water scarcity is becoming increasingly apparent, water-intensive industries are focusing closely on monitoring water use, treatment, and re-use across their operations. This has opened the door to the exploration of synergies between users (industries) and providers (utilities) of water to reduce inefficiencies in the water cycle.
Sustainable infrastructures play a crucial role in industrial processes, drinking water production and treatment, as well as the management of freshwater resources. They represent significant value in terms of their operational function and capital cost.
Robotics for I&M can play a key role in safeguarding infrastructures. Through increased collection of reliable data in remote, inaccessible or hazardous environments in a manner which is safe, efficient and cost-effective, robotics can contribute to better water stewardship and a more sustainable future.
Continuing the successful events of spring 2021, SPRINT Robotics and RIMA Network will co-host "Focus on water: Advancing robotics for I&M in water intensive industries". The webinar is free of charge, registration is required.
Our speakers include industry experts from leading companies in I&M Robotics:
Alexandre Ventura, Suez
Francois Theil, Flyability
Jeroen Minnema, DEMCON
Klas Lange, WEDA
Quinn Holub, Gecko Robotics
Kristopher Embry, PICA Corp
SPRINT Robotics
The SPRINT Robotics Collaborative is a global, not-for-profit, industry-driven organization which focuses on the development, availability and application of robotics techniques in technical inspections and maintenance of capital-intensive infrastructure. Founded in 2015, it has developed into a strong organization with a strong support base of more than 90 organizations globally. It has become the internationally recognized platform for Inspection & Maintenance Robotics, primarily for the Petrochemical Industry. One major focus of SPRINT Robotics is to engage and bring together the whole value chain, from end users to service and technology providers.
RIMA
RIMA is a 4-year project, funded by European Horizon2020 program, facilitating the innovation of robotics in I&M in Europe. RIMA connects and inspires key stakeholders in I&M robotics and aims to accelerate innovation and uptake of robotics between these stakeholders with the support of Digital Innovation Hubs. RIMA focuses on six industries; Water, nuclear, energy, oil&gas and chemical, transport routes and buildings, Trasport, cargo and mobility.
Program
14:00 Welcome & Introduction by Maarit Sandelin, SPRINT Robotics
14:10 Drones for Sewer Pipes Inspections – Use case Suez - Flyability Alexandre Ventura, Suez & Francois Theil , Flyability
14:30 Jeroen Minnema, Demcon
14:45 Underwater Tank Cleaning by Klas Lange, Weda
15:00 Collecting Data for the Preventative Maintenance of Municipal Water Systems by Quinn Holub, Gecko Robotics
15:15 Robotics in Public Infrastructure by Kristopher Embry, PICA Corp
15:30 Jakub Matyszczak, MAB Robotics
15:35 AI WATER (2OC) Guillermo Flores, Rovimatica
15:45 PIPEYE RIE (2OC) Dario Sosa, Subsea Mechatronics
15:50 MOVEX (2OC) Merijn Sanders, Voxdale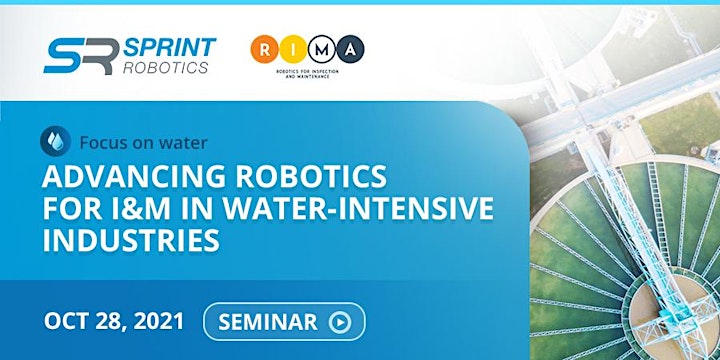 Organizer of Focus on water: Advancing Robotics for I&M in Water-intensive Industries