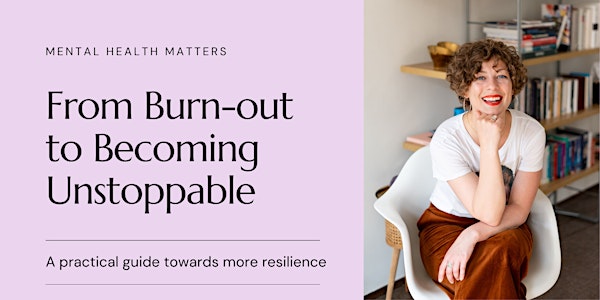 From Burn-out to Becoming Unstoppable
What is a burn-out? Why does it happen? How do we get out of it? And how can we avoid it? This training will provide you answers & tools.
When and where
Location
De Roos 183 Pieter Cornelisz Hooftstraat 1071 BW Amsterdam Netherlands
Refund Policy
Refunds up to 1 day before event
Eventbrite's fee is nonrefundable.
About this event
This training is designed by Ines Gaston, Clinical Psychologist and Performance Coach. She will share insights and tools to help you break through a burn-out and prevent it from happening again. You will discover the scientific know-how and practical methods to change things for the better.
During this 4h workshop you will be given deep insights on the recovery process of burn-out, a proven roadmap for Recovery and techniques that you will be able to apply right away.
In short: This 4h workshop equals the process delivered in 4 therapy sessions.
What will you learn:
The 4 phases of your recovery process
Do's & Don'ts in recovery
Strategies to speed-up your recovery
Tools to create a healthier, more balanced life.
Practical tips to integrate a self-care routine… no matter how busy your life is.
Guidance and support to reignite your joy and passion for life, and replenish your spiritual well.
This training is for you if:
You want to fully understand why you're experiencing a burn-out, and are seeking expert step-by-step guidance on how to overcome it.
You want to recharge and boost your energy, passion, creativity, and focus.
You want the tools to create a self-care action plan to improve your emotional, physical, or spiritual well-being.
You want to reclaim your inner power and self-confidence in order to thrive.
About Ines
Given her academic background in Clinical Psychology, a career in corporate HR and a first hand witness Ines combines best of all worlds in her methodology.
For the past 4 years she has been helping professionals breakthrough burn-out with a proven framework "Becoming Unstoppable". She is supporting businesses and business owners in Mental Health on the work floor through workshops and trainings, both in person as well as online.
Having gone through a burn-out herself, Ines embarked on a journey that led her around the world and taught her life lessons about trust and the unknown. She has condensed her scientific knowledge, experiences and expertise into a step-by-step protocol that is enabling others who are experiencing similar growing pains.
Ines is known for her high energy, as a great storyteller with a love for science! She will teach you how the brain, mind and body work together, and what you can do to manage them better. Let's get you started on this journey to well-being and balance today!
More info on her journey: www.inesgaston.com
or follow her on instagram @inesgaston