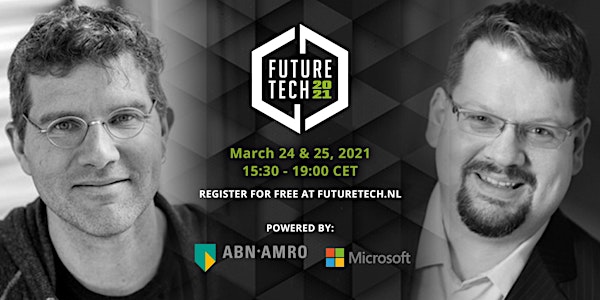 Future Tech Digital 2021
Future Tech is the IT conference for developers, architects and experts to discuss and dive deep into .NET technologies.
About this event
On March 24 & 25, 202`1 the Future Tech Foundation organizes the biggest .NET Conference of the Netherlands. Future Tech Digital 2021 provides you with a mindblowing timetable and many national and international top level speakers such as Brendan Burns (Vice President @ Microsoft & Creator of Kubernetes), Richard Campbell (Host @ .NET Rocks! & RunAs Radio) and many more!.
Attend Future Tech Digital 2021 to learn all about the newest Microsoft technologies and meet other .NET professionals. This year, the conference will be fully online. During Future Tech you can enjoy a wide variety of sessions, workshops, keynotes, networking and much more! Beginner, intermediate or expert? Future Tech is open for all types of developers. It is the Microsoft technology conference you can´'t miss!
Check out the latest info such as the timetable at futuretech.nl