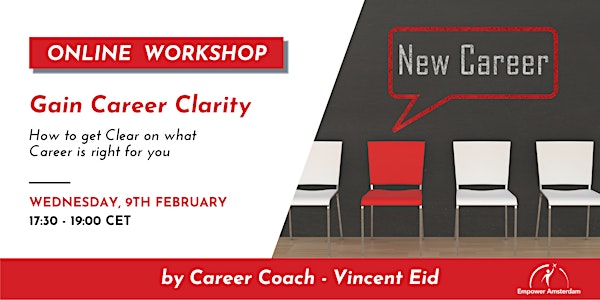 Gain Career Clarity
How to get clear on what career is right for you
Refund Policy
Contact the organizer to request a refund.
Eventbrite's fee is nonrefundable.
About this event
Are you considering a change in your career, but you're not sure where to start? Or maybe you're not even sure which career path is right for you? Perhaps you find yourself taunted by thoughts like:
"I don't know what kind of jobs to look for"… "I feel bored, frustrated, or overwhelmed in my current job"… "I don't like the type of work I'm doing"… "I'm scared of losing what I've already accomplished"… or "I don't have the confidence to do something else".
In this 90-minute workshop, Empower Amsterdam would like to help you:
- get out of career confusion,
- clarify your career plan, and
- find the confidence to land a job that's ideal for you.
This workshop is the right first step for you if you're currently unemployed, on a career break, or even employed yet considering the possibilities of changing jobs or starting your own business. Chances are that you feel anxious and overwhelmed at the thought of starting all over again. You probably feel unsure of what your strengths, interests & passions are, but one thing you know for sure is that this next job must bring the balance and satisfaction you are looking for.
In this workshop, we will discuss ideas such as what is and how important is meaningful work, how to excel in any work situation, and how to create a career you love. Together we will help you understand the step by step process you need to follow to get the clarity you need in your career. You'll learn:
- The 3 myths that are keeping you stuck in your career.
- The 12 elements you need to bring together to align your career with who you are.
- The 3 steps you need for a clear career vision and a plan.
About the facilitator :
Vincent Eid is fiercely committed to guiding professionals to achieve fulfillment and success in their careers so they can feel alive again and have the lifestyle they desire.
With 15 years of international experience in the corporate world, Vincent's mission and commitment is to help as many people as possible enjoy their career by excelling while being truly who they are. Besides his leadership experience in the corporate world, Vincent holds an MBA from the prestigious HEC Paris, a maxim award from Nike (Simplify and Go), a Certified Professional Co-Active coach certification from CTI, and a Firework career coaching license. He speaks 5 languages (fluent in 3), has lived in 4 different countries, and studied and worked with people from 30+ different nationalities.
You can connect with Vincent on LinkedIn
Your donation helps Empower Amsterdam to continue to support internationals looking to start a career here in the Netherlands.
For this event we are offering every participant a free 1:1 coaching session with Vincent.