About this Event
Life Fitness Benelux ruimt op! Op 18 september 2020 organiseren wij een garage sale in ons Warehouse. Heb jij altijd al een van onze producten willen hebben of wil je graag je huidige assortiment uitbreiden? Je kunt nu een groot deel van ons aanbod voor een zeer scherpe prijs bemachtigen. Na registratie ben je van harte welkom, maar zorg wel dat je er snel bij bent want voor alles geldt OP=OP!
We willen je vragen om zoveel mogelijk alleen te komen en thuis te blijven bij verkoudheidsklachten. Natuurlijk zullen wij ook de nodige maatregelen treffen en aan alle anderhalvemetervoorschriften voldoen.
Voorwaarden
OP = OP
Reserveren is niet mogelijk
Aanbetaling van 150 euro is verplicht als een toestel niet direct wordt meegenomen
Transport & installatie is mogelijk voor 7% van de netto bestelwaarde
Leasing is mogelijk onder bepaalde voorwaarden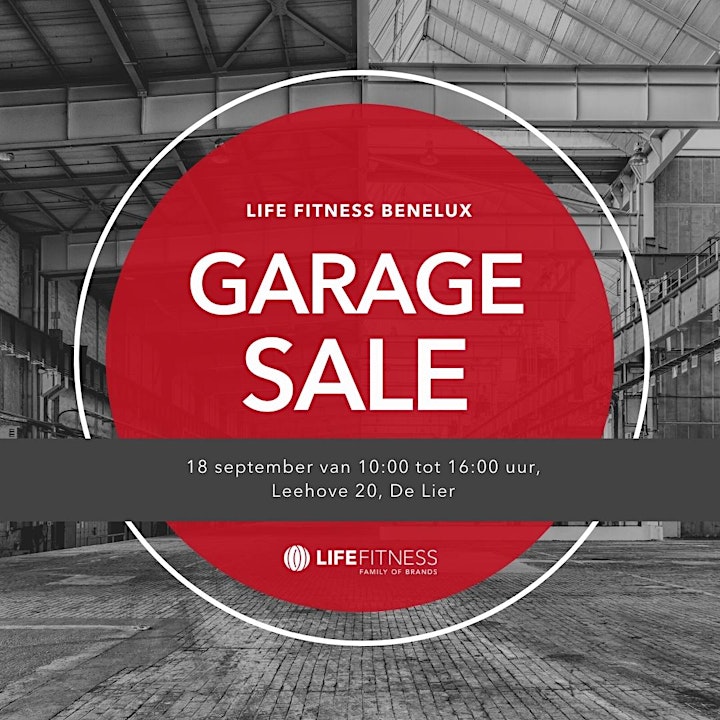 Met de registratie verklaar ik dat KPS Capital en haar gelieerde ondernemingen (met inbegrip van, doch niet beperkt tot, de divisie Life Fitness van het bedrijf), rechtsopvolgers, rechtsvoorgangers, divisies en haar en hun agenten ("KPS Capital") door of voor KPS Capital verkregen videobeelden, foto's en/of persoonsgegevens van mij of verband houdend met mij, teneinde KPS Capital en haar producten en diensten te adverteren of te promoten en te publiceren in de media, zonder vergoeding of verdere toestemming.
Life Fitness Atlantic BV kan persoonsgegevens over u verwerken, doordat u gebruik maakt van de diensten van Eventbrite, en/of omdat u deze zelf bij het invullen van een contactformulier op de website verstrekt. Life Fitness Atlantic BV kan de volgende persoonsgegevens verwerken:
Voor -en achternaam/ E-mailadres/ Bedrijfsnaam