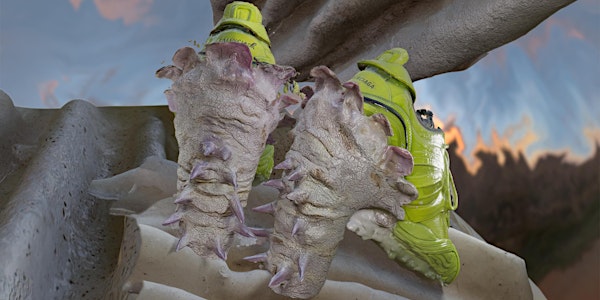 GEM Z | TNL! Guest Programme
An evening with the makers of the exhibition GEM Z: The Farthest from Earth We've Ever Been in Het Nieuwe Instituut
When and where
Location
Het Nieuwe Instituut 25 Museumpark 3015 CB Rotterdam Netherlands
About this event
Current Obsessions invites four of the participating artists of the exhibition GEM Z: The Farthest from Earth We've Ever Been, currently on display in Gallery 3 By You in Het Nieuwe Instituut. In addition to the GEM Z artists, Grammy nominated filmmaker Andrew Thomas Huang will join the talk. Huang was one of the tutors of the programme and will shed a light on his multidisciplinary practice in which he crafts hybrid worlds rooted in Sinofuturist folklore, mysticism and spiritual realism.
Programme
5.30pm - 7.30pm: Free access to the exhibition in Gallery 3 By You
6.30pm - 7.30pm: Drinks at Het Nieuwe Café
7.30pm - 9pm: TNL! event in the Auditorium
GEM Z
The exhibition is cast as the speculative crash-landing site of an alien pod and showcases the results of the eponymous talent-development programme by Current Obsession.
The presented works fuse design, digital art and adornment, all through the lens of Generation Z. In celebration of the exhibition four of the participating artist give insight into their work (method), covering a variety of urgent topics within the field of contemporary adornment ranging from diamond marketing, design fictions to queer identity.
Participating Artists
Danielle Karlikoff, Hansel Tai, Joannette van der Veer, and Simon Marsiglia. They will be joined by artist Andrew Thomas Huang.
Current Obsession
Current Obsession (CO) is a jewellery magazine and platform based in The Netherlands. CO collaborates with exceptional designers and artists and develops curatorial projects and events with renowned brands and cultural institutions.
The exhibition is on display from 30 October until 30 November 2021.
As of 25 September 2021, Het Nieuwe Instituut follows the Museum Protocol, the rules of conduct for safe and responsible museum visits drawn up by the Museum Association on the basis of the RIVM guidelines. Under the new guidelines, we are required to check the corona pass of all visitors (aged 13 and above) attending all events (including Thursday Night Live! events). For an overview of all guidelines at Het Nieuwe Instituut, visit our website.