Location
33rd Street Coffee
109A Kleiweg
3051 GL Rotterdam
Netherlands
Introductie koffie: Gesha Spirits
About this event
[English below]
Op zaterdag 2 juli introduceren we samen met 33rd Street Coffee onze Gesha Spirits. In deze collab hebben wij gezamenlijk een heel bijzondere Gesha gevonden. Van deze limited edition koffie is slechts 24 kilo beschikbaar. De introductie wordt in het Engels gegeven.
On Saturday, July 2nd, we will introduce our Gesha Spirits together with 33rd Street Coffee. In this collab we have found a very special Gesha together. Only 24 kilos of this limited edition coffee is available. Introduction will be held in English.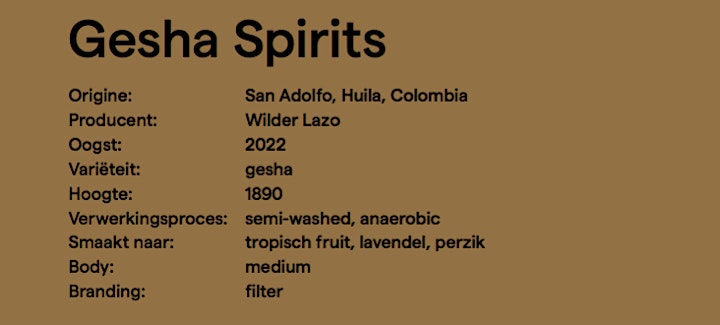 [English below]
Deze gesha is heaven in a cup! Alleen al de geur is zo zeldzaam mooi. De heerlijke aroma's van lavendel, jasmijn, perzik, vanille en sinaasappel zijn prachtig en een voorbode van een werkelijk zinnenprikkelende ervaring. We danken deze ronduit euforische ervaring aan de buitengewone gesha variëteit, het terroir en de ongekende toewijding bij de pluk en verwerking van teler Wilder Lazlo. Met deze Spirits proef je een koffie die je altijd bijblijft.
This gesha is heaven in a cup! The smell alone is so rarely beautiful. With delicious aromas of lavender, jasmine, peach, vanilla and orange. We owe this downright euphoric experience to the extraordinary shaped variety, the terroir and the unprecedented dedication in the picking and processing of grower Wilder Lazlo. With these Spirits you taste a coffee that will always stay with you.