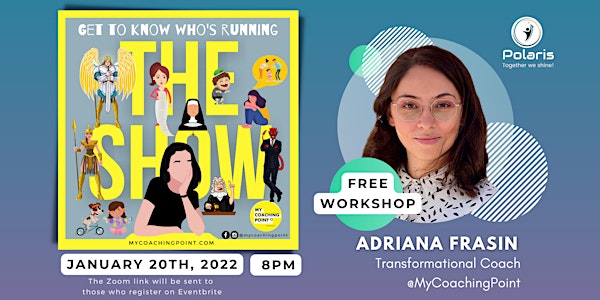 Get to know who is running the show
Get to know who is running the show. An interactive workshop.
Refund Policy
Contact the organizer to request a refund.
Eventbrite's fee is nonrefundable.
About this event
"Who is running the show?"
Interactive online workshop
Register now to join us at 8:00 pm CET on Thursday, January 20, 2022 for the interactive workshop via Zoom (8:00-9:00 pm) to kick off the 2022 year of self-development!
The event will be hosted online via Zoom. The link to the Zoom meeting will be shared only with the registered participants before the event.
What will this workshop be about and why should you join?
The inner critic, the roommate, the inner council, the various archetypes, the voices in our heads, the dark side - we all heard about these topics in their many shapes and forms.
This event is designed to help us connect with all these parts of our personality, may they be known to us, or lingering in the dark, just below the surface. The end goal is to BEFRIEND them. Yes. Even the bad guys or the dark sides of our personality 😉.
We will think about who we are, how we behave, what we value, what people say about us, and crystallise all under characters or symbols that feel familiar: a playful child, a judge, a nun, an archangel, a business person, a working horse, a loyal dog, a bully child, a selfish prick, a hedonistic dark lord. Whatever it is, we will name it. This way we can listen to them, figure out the reason why they are present, what they have to say, why they are so vocal, or why they are completely silent.
So tell us, would you like to take back control and run "the Show" in your best interest? Would you like to be the master puppeteer? And according to the situation you will find yourself in, to bring out the most powerful and useful part of your personality: a sweet playful child, an assertive dark lord, a protective queen, a skilled magician or whatever other ammunition, gift or skill you have?
Then don't hesitate to hit the Eventbrite subscribe button!
Meet your speaker - Adriana Frasin:
Adriana is a Transformational Coach, a Life Designer, a Brand Strategist, a Fundraiser, a former Corporate Manager, a World Traveler, a Rookie Investor and a Makeup Artist. She volunteers at Polaris Foundation and gives back to support others on their journeys. A human on a mission for a life well lived. Her purpose in life is to be courageous, playful, connected to her heart and guide people towards fulfilment.
For more details you can find her on LinkedIn and on her website.
#TogetherWeShine
#SelfDiscovery #SelfDevelopment #Learning #Growth
#Archetypes #Psychology #Coaching
#Leadership #LeadingIntoTheUnknown
#InspireAndImpact
#SharingIsCaring