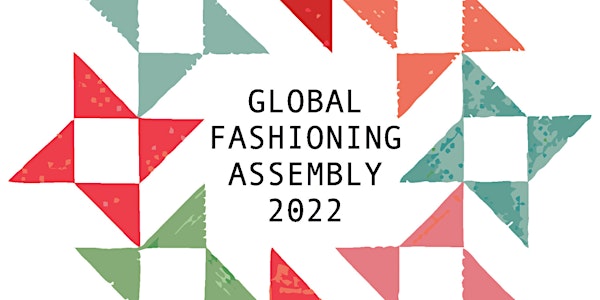 Global Fashioning Assembly Biennale 2022
Join us in rethinking "fashion" through panel discussions, fashion workshops, demonstrations, studio visits and more!
Refund Policy
Contact the organizer to request a refund.
Eventbrite's fee is nonrefundable.
About this event
The Global Fashioning Assembly (GFA) invites you to join in a gathering of global fashion makers which will take place from 21 - 23 October 2022!
Reaching out beyond institutional, disciplinary, and geographical boundaries each part of the GFA is hosted by a coalition from a different geography in the world. Sharing online and offline programming every aspect of the GFA will be self-represented, activated, and governed, with international and local audiences and communities engaged and connected equally across diverse locations.
Our three-day event will explore fashion through panel discussions, fashion workshops, demonstrations, studio visits and more!
For the first Global Fashioning Assembly Biennale (GFA22), we will be joined by the following hosting communities:
New Zealand Fashion Museum | New Zealand: (02:00 UTC) The Fashioning Assembly Aotearoa is a series of talks, workshops and presentations exploring the diverse ways of self-fashioning and communal caring, coordinated by Doris de Pont for the New Zealand Fashion Museum.
Aika Alemi | Kazakhstan: (21 OCT, 05:00 UTC) Elge Oralu/ Coming Home explores the search for identity, place of origin and sense of home in Kazakhstan history and culture with interviews, performances and presentations led by Aika Alemi.
Pakistan Collective for Decolonial Practices | Pakistan: (21 OCT, 08:00 UTC) The Pakistan Collective for Decolonial Practices will be hosting a seminar by fashion/textile educators and designers who invite students' perspectives on the possibilities of decolonising the curriculum, featuring Zeb Bilal, Sonya Battla, Rohma Khan, Kohi Marri, Mehwish Abid and Pakeezah Zaidi.
African Fashion Research Institute | South Africa: (21 OCT, 11:00 UTC) AFRI_inConversation: threads of thought is an immersive dialogue between four South Africans Erica de Greef, King Debs, Lesiba Mabitsela and Scott Williams about how they meet as creatives and why they do what they do during a walkabout at the CeraMIX: Texture exhibition.
Own Your Culture | Kenya (An in-person event, details below): (21 OCT, 14:00 UTC) Own Your Culture brings founder Chepkemboi Mang'ira and cultural change makers and social entrepreneurs Sylvia Omina and Angela Mutethya together to share the weaves and twists of restoring their cultures and craftsmanship for future fashioning.
Centre for Research of Fashion and Clothing | Croatia: (22 OCT, 08:00 UTC) The Centre for Research of Fashion and Clothing (CIMO), based in Croatia, presents a re-reading of workwear clothing practices, working class cultures and socialist industrial production histories with Maja Gecic, Ben Cain, Chiara Bonfiglioli, Tina Gverovic, Maja Arcabic, Lea Vene & Tonci Vladislavic.
The Linen Project | Netherlands: (22 OCT, 11:00 UTC) The Linen Project's social, ecological and cultural 'commoning' approach as a call to re-existence of local flax cultivation in the Netherlands, is shared by Joan den Exter, Karin Wijnen, Hans Hutting, Theodoor Adriaans, Carolien Evers and Henrike Gootjes, and moderated by Sandra Niessen.
Fashion Liberation Collective North Africa | Egypt, Morocco, United Kingdom: (22 OCT, 14:00 UTC) The Fashion Liberation Collective North Africa (FLCNA) brings a three- country coalitional take on decolonising design thought beginning at a university in Cairo, Egypt with James Green, moving to a textile exhibition in Morocco with Zeinab Achoubi, and ending with a meme workshop in London with Spike Dennis and Nada Koreish.
CoMoDe | Brazil: (23 OCT, 12:00 UTC) CoMoDe, the Fashion and Decoloniality Collective: Crossroads in the Global South premieres the screening of the artistic adaptation of an academic article written by CoMoDe researchers based in Brazil, titled 'The Fashion Crossroad Method' and presented by Mi Midrado.
GiFt | Ghana: (23 OCT, 15:00 UTC) Ghana International Fashion Team presents a critical dialogue with fashion creatives Beatrice "Bee" Arthur, Nuel Bans and Clara Pinkham, in a panel discussion weaving together aspects of Ghanaian culture for a decolonized future fashions.
North Carolina Museum of Art | United States: (23 OCT, 18:00 UTC) Mute the Dominant Mic at the North Carolina Museum of Art sees Amanda Maples, Alexus Rhone, Chef Kabui and Shemora Shaikh share practices of communal healing with mindful fashioning, tea-drinking and henna painting.
Awamaki | Peru: (23 OCT, 21:00 UTC) Awamaki offers a journey through weaving and sharing with artisan women in rural Andean communities in Peru with Mandish Kalsi in dialogue with Kennedy Leavens.
The programme aims to rethink fashion as a multitude of possibilities, rather than a normative Eurocentric/colonial framework falsely claiming universality. The Global Fashioning Assembly offers instead a radical plurality of roads into the future that bear witness to the survival of fashion diversities and the reversals of erasures.
Event will take place over Zoom. Programming details below. Follow us on Instagram and visit our website to stay up to date!
www.globalfashioningassembly.com | @globalfashioningassembly
The Global Fashioning Assembly is created and coordinated by The Research Collective for Decoloniality & Fashion. Registration is free, but please consider supporting the programme by purchasing either the Supporter or Donor tickets, as the project is made possible by the efforts of local initiatives, dedicated scholars and independent collectives.
If you would like to make a direct donation, please do so to the following account via bank transfer:
BANK: ING Bank, Vrijthof, Maastricht.
IBAN: NL39INGB0674877012
BIC: INGBNL2A
---
GFA KENYA EDITION (in-person event)*
For the GFA 2022, OwnYourCulture will be drawing from the Kiswahili concept of a baraza - kikao kinachoshughulikia jambo fulani – a meeting place usually to discuss a particular topic or to address urgent matters within the community. In a baraza, everyone's voice and opinion is valuable as it is believed that each member of the community has valuable opinions to assist the entire community. In this baraza, we shall discuss practical ways of decolonizing fashion, the value of our cultural heritage and the unique ways traditional fashion crosses over into art as well as personal history.
Our speakers include Sylvia Omina Otsieno a designer and maker whose work is inspired by cultural traditional craftsmanship like basket weaving, using natural resources that have existed in many parts of Kenya, from generation to generation in Busia in Western Kenya.
Secondly, Angela Mutethya, the team lead at Kapu Langu, a home décor and interior design studio that designs, curates and collects beautiful finds through their travels across the African continent. Through this work they are preserving centuries old traditional design as well as creating sustainable employment across the continent.
This event will be held at Jenga Leo (Kilimanjaro room) in Westlands, Nairobi, on Friday 21 October 2022 from 5pm to 7pm EAT. For any queries, please contact Chepkemboi Mang'ira on (+254)725702380 or email ownyourcultureafrica@gmail.com.
*To attend in-person, please select the GFA Kenya ticket at checkout. You may select multiple tickets, if you would like to attend the whole Assembly online as well as this in-person event. Feel free to attend both !
---
GFA is partly funded by the Stimuleringsfonds.