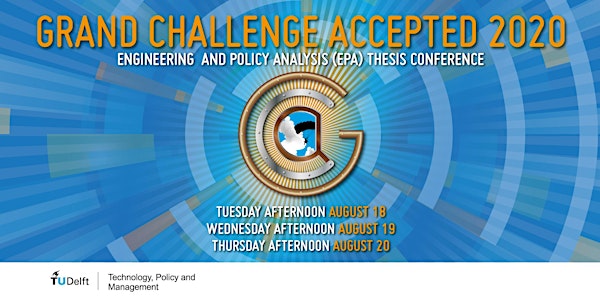 Grand Challenge Accepted 2020
Grand Challenge Accepted 2020 - Thesis Conference EPA, afternoons on: Tuesday August 18, Wednesday August 19 and Thursday August 20
About this event
You are cordially invited to join the third Thesis Conference from Engineering and Policy Analysis (EPA): "Grand Challenge Accepted 2020". This year the conference will take place online on Tuesday August 18, Wednesday August 19 and Thursday August 20 in the afternoon.
The final stage of the TU Delft Engineering & Policy Analysis Master programme is a half-year thesis research project. In this 3rd EPA Thesis Conference, EPA students will present the results of their individual research projects to external relations, future commissioners, employers, current and future EPA students, family and friends. During the conference, you can join sessions on a wide variety of research topics such as resilience, energy transition, cyber security and data and modelling challenges.
We scheduled seven sessions of 20 minutes presentations and short pitches, in total 25 students will present their research. You can participate as well in one of the three challenging workshops in the field of data science workflows or creating a new society (The Seriously Quiet Year). Stijn Hoorens, one of the very first alumni from the TU Delft faculty of Technology, Policy and Management ever and associate director of RAND Europe in Brussels is our keynote speaker. A festive goodbye event with personal contributions from staff and students will be organized to close the conference.
Registration for the conference programme will be free of charge. Please register latest Monday August 17.
If for some reason you are unable to come, please always cancel your registration.