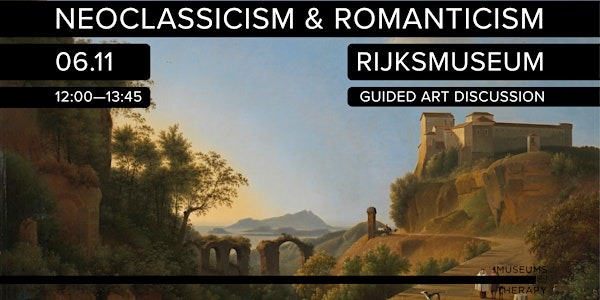 Guided Art Discussion: Neoclassicism and Romanticism
We discover art by discussing it with like-minded people. This time, we talk about Neoclassicism and Romanticism in the Rijksmuseum.
When and where
Location
Rijksmuseum 1 Museumstraat 1071 XX Amsterdam Netherlands
Refund Policy
Contact the organizer to request a refund.
Eventbrite's fee is nonrefundable.
About this event
During guided art discussions, we study art by engaging in a conversation about it. Each discussion focuses on a specific art topic, genre or period and consists of the following parts: introduction of participants, exploration of artworks and slow looking, group discussion of artworks chosen by participants and the guide, reflection on the process and feedback round. During the discussion, every participant is actively involved in looking at art, thinking about art, verbalizing their thoughts, sharing these thoughts and listening to others. The guide steers the discussion by focusing the participants' attention on specific aspects of artworks (e.g., content, color, composition, etc.) and on the participants' own perception of these artworks. The guide also takes care of the safety of the discussion by ensuring that the following rules are observed: we do not make judgments and talk about ourselves only.
The objectives of guided art discussions are:
Widen the participants' knowledge of art.
Discuss art with like-minded people.
Practice slow/mindful looking at art.
Practice talking about art.
Learn about different perspectives on art from other participants.
🎟 Tickets and Cancellation Policy
The event price is 20€ per person + 1.08€ eventbrite fee. If the event is sold out, you can join the waiting list and you will be notified in case a spot opens.
Please also book your museum ticket at https://www.rijksmuseum.nl/en/tickets/articles. If you have a Museum Card, choose "I already have a ticket/voucher", otherwise "Entrance adult". Then select "Museum admission" and the date and time of the event, namely, Nov 6, 11.45 or 12.00. IMPORTANT: Even if you have a Museum Card, you HAVE to book a FREE museum ticket. Without a Museum Card the museum ticket is 20€.
If you cancel your participation up to 48 hours before the event, the event cost of 20€ will be refunded. IMPORTANT: The eventbrite fee of 1.08€ is non-refundable. If you cancel less than 48 hours before the event, the refund will not be possible.
ℹ️ Practical info
The maximum number of participants is 6 people.
We meet in the entrance hall of the Rijksmuseum near the reception.
The event starts on time, so please arrive in advance to find the meeting point and to use the cloakroom/lockers/toilet.
No COVID-19 restrictions.
(Optional) After the event, we socialize in one of the museum cafeterias.
Practical information on visiting the Rijksmuseum can be found on the museum website: https://www.rijksmuseum.nl/en/visit.