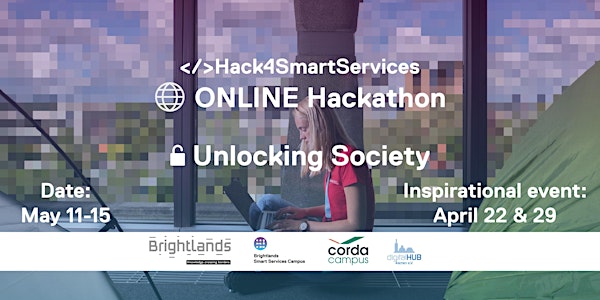 Hack4SmartServices - Unlocking Society
During the online hackathon we want to think ahead, the time when the state of public healthcare emergency is overcome
About this event
"Unlocking Society – returning to the new normal"
Reality has a funny way of correcting itself and we currently find ourselves in the middle of a major, global crisis - but it is still our collective reality. Governments, institutions, business, and society are all, unilaterally and unquestionably, going to change as a result of the corona virus crisis.
While it appears that chaos and entropy are defining the world today, yesterday, and in the near future, certain groups of innovators, entrepreneurs, and intellectuals are taking the initiative to build a new normalcy. These people take back control from the crisis and build a better future as they see fit.
On May 11, 12, and 13 the Brightlands Smart Services Campus, Corda Campus Hasselt, and DigitalHUB Aachen call upon the brave and idealistic to participate in a digital hackathon and contribute their time, energy, and enthusiasm to finding solutions to four specific problems brought about by the corona virus. May 14 will be 'judgement day' and the winners will be announced on May 15.
The Challenges:
Because the partnerships and challenges from each partner are evolving constantly we encourage you to sign up for the event and check Sparkboard (hack4smartservices.sparkboard.com/projects) as we finalize all of the challenges.
Our Goal:
The purpose of the Hackathon is to match real-world challenges and opportunities from business and society with the right teams to create solutions for them. In the weeks leading up to the Hackathon we will be matching companies and governments to 'own' challenges and help the teams with the best ideas make them into a reality after the Hackathon.
Additionally, winning teams can expect the following aftercare:
Space at a campus
Access to network across three campuses
Exposure in the Euregio
In kind resources - i.e. network brainstorming sessions
Contacts within potential partner organisations to accelerate projects