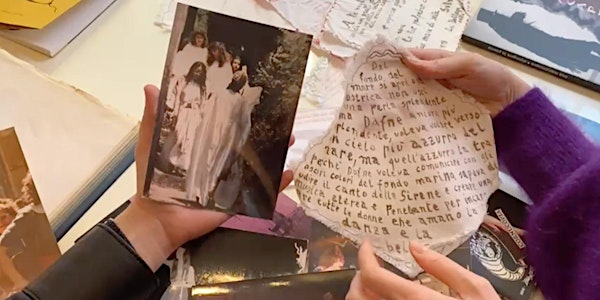 Happy Hour with Le Nemesiache / Virtual Tour
Virtual tour of the exhibition From the Volcano to the Sea. The Feminist Group Le Nemesiache in 1970s and 1980s Naples
About this event
From the Volcano to the Sea: The Feminist Group Le Nemesiache in 1970s and 1980s Naples
Rongwrong, Amsterdam
Founded by philosopher, artist and writer Lina Mangiacapre in 1970, Le Nemesiache was an open group of female participants who led a 'different daily life' in which mythology was an embodied practice of feminist transformation. For the first time, the group's archive of documents, film, collage and much more is presented, dwelling on the way in which they blurred the line between art and politics in ritualistic practices embedded in the natural and supernatural landscape of Naples.
During the virtual tour the organizers of the exhibition will present materials on display and share stories about them. The tour will take place on zoom and a link will be shared in due time with all the participants.
From the Volcano to the Sea is curated by If I Can't Dance's 2019–20 Research Fellow Giulia Damiani in dialogue with Sara Giannini (If I Can't Dance) and Arnisa Zeqo (Rongwrong), with an exhibition design by Maud Vervenne. The exhibition forms a part of If I Can't Dance Edition VIII – Ritual and Display and is a chapter of Rongwrong's Ephemeral Evidence Season 2.
For more information on the project, read full press release .