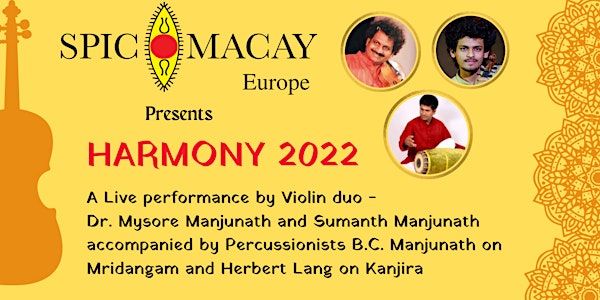 Harmony 2022 - Dr. Mysore Manjunath Violin Concert - Aachen
An evening of cultural exuberance with the illustrious violinist Dr. Mysore Manjunath
When and where
Location
Griechisch-Orthodoxe Kirche Jesuitenstraße 6 52062 Aachen Germany
About this event
Organizers
This event is brought to you by the European extension of the organization, SPIC MACAY (Society for the Promotion of Indian Classical Music, Arts and Culture Among the Youth). Join us for a collective viewing experience of the artist performing live!
About the artists
Dr. Mysore Manjunath is an acclaimed Indian violinist. He is renowned for his exceptional artistry in playing the Carnatic style of Indian classical music on the violin, a system of classical music from the south of India. Holding a Ph.D. in violin theory, he has guided multiple students under the Fulbright scholarship scheme and is known for his extensive knowledge of violin techniques. He has collaborated with various international artists and has also performed in world-renowned places such as Royal Albert Hall in London, Sydney Opera House, and Oxford University. Dr. Manjunath also has the distinction of being invited to special conferences, presentations, workshops, and concerts at some of the world's top universities like MIT, Oxford University, University of Chicago, University of North Texas, Indian Institute of Technology,  and The Kansas State University.
Continuing the legacy of Dr. Mysore Manjunath is the Indian violinist, Sumanth Manjunath. He hails from a musical family and has received training from his grandfather veteran violinist Sri Mahadevappa, his uncle the renowned violinist Mysore Nagaraj, and his father Dr. Mysore Manjunath. Sumanth has been performing since the age of nine and has performed in concerts across the globe.
Mridangist BC Manjunath is a virtuoso in the field of percussion in Indian classical music. He has performed globally as a solo artist and as part of an ensemble, having collaborated with global artists and festivals such as Rafael Reina, Riccardo Nova, members of Bhedam, Conservatorium of Amsterdam, The Karnatic Lab Festival, Zagreb Music Biennale, Fabrica Italy and many more. His impact has grown exponentially worldwide over the last decades, reaching musicians of all backgrounds who discover universal principles in his essential vision of rhythm.
Kanjira artist Herbert Lang will be providing the rhytmic accompaniment in the Kanjira. The kanjira is a south Indian frame drum of the tambourine family. 
We believe that a concert of this nature is a great avenue for cultural exchange between music enthusiasts from India and Germany. Hence, we are eagerly looking forward to having you in the audience!
Venue: Aachen
Date: 20th of July, 2022.
Time: 18:00 – 20:30 CET.
Format of the event
The live concert provides a unique opportunity to experience the highest level of Indian Classical Music along with a strong sense of culture and community which is heralded by SPIC MACAY Europe. 
Who are we?
SPIC MACAY (founded in 1977) is a non-government, non-profit movement which promotes Indian classical music, dance, yoga and other artforms amongst the youth. Every year,  SPIC MACAY arranges more than 5000 programs in more than 1500 institutions across almost 1000 cities worldwide, touching over 3 million students. This also includes hitherto neglected rural children in India, where SPIC MACAY is making a concerted effort to consciously include these students by organizing an increasing number of programmes. A detailed description of all our modules are listed on our website.
For more details regarding this event and also our future events, you can follow us on the following forums:
Instagram: https://www.instagram.com/spicmacayeurope/?hl=en
Facebook: https://m.facebook.com/SpicMacayEurope/
Twitter: https://mobile.twitter.com/spicmacayeurope?lang=en
LinkedIn: https://www.linkedin.com/in/spic-macay-europe-and-uk-62aa841b6
Support Us!
If you are interested in financially supporting our movement to promote Indian culture across Europe, then kindly donate to our fundraiser to become one of our patrons!