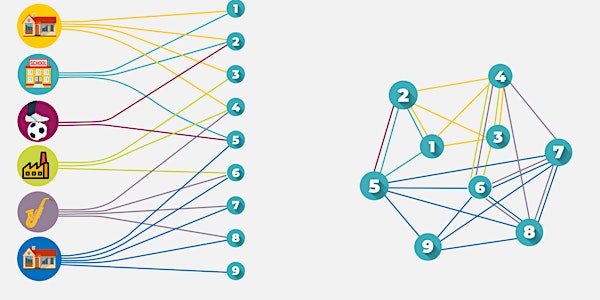 HNR2021 Workshop 1: Analysis of Two-Mode Networks with Python
HNR2021 Workshop 1: Analysis of Two-Mode Networks with Python (Demival Vasques Filho)
About this event
HNR2021 Workshop Day (June 30, 2021)
Workshop 1: Analysis of Two-Mode Networks with Python
Convenor: Demival Vasques Filho, Instituts für Europäische Geschichte (Mainz).
Many systems represented by networks are projections of more complicated structures. Often, the original network has a bipartite architecture comprised of two different types of nodes; thus the name two-mode (or bipartite) networks. Examples are relations based on membership, affiliation, collaboration, employment, ownership, and others. We use (one-mode) projections of two-mode networks mainly for two reasons. First, we are often more interested in only one of the types of nodes; those with agency. Second, there is a myriad of metrics for studying one-mode networks, while there exist fewer well-established one to characterize the structural properties of a two-mode network.
In this workshop, we will learn about the metrics that we employ to directly analyze two-mode networks as, for instance, the degree distribution of both sets of nodes, redundancy, clustering coefficients, and the presence of motifs (small-cycles). Also, we will discuss projections, and how and when to use the different methods for creating one-mode projected networks, such as simple, multi, and weighted graph projections.
We highly suggest that all attendees have the Anaconda Distribution already installed on their computers. Anaconda provides Python, Jupyter Notebook, and all the Python libraries that we will use during the workshop.
Participants do not need to have previous knowledge of two-mode networks or Python. Nevertheless, it is helpful to have some familiarity with networks in general, and with the programming language, before attending the workshop.
Check our website for more information about the conference: http://hnr2021.historicalnetworkresearch.org/