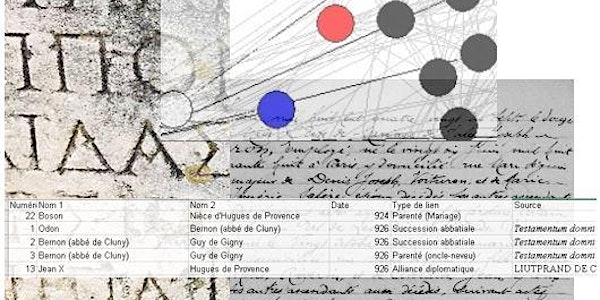 HNR2021 Workshop 3: From historical source to network data
HNR2021 Workshop 3: From historical source to network data
About this event
HNR2021
Workshop 3: From historical source to network data
Convenor: Claire Lemercier (CNRS, Paris)
This workshop is primarily aimed at complete beginners (there is no pre-requisite in terms of knowledge of network analysis methods); but it might also be interesting for practitioners of network analysis who are interested in making the most out of historical sources. Claire Lemercier will offer two short (ca. 10 minutes) lectures and lead a collective discussion/experimentation in the creation of network data from several different historical sources.
Lecture 1 will offer a tour of the wide range of historical sources that lend themselves to network analysis, and list principles of source criticism that are important to keep in mind when using each type of source
Lecture 2 will offer practical advice for the building of network data that stays as true to the source as possible and offers the best potential for network analysis (this lecture could be subtitled "against data cleaning")
Most of the workshop will be devoted to a collective discussion based on a few examples of sources: the participants will collectively decide which kinds of ties between which kinds of nodes could be extracted from those sources, and how best to do it
Preparation
If some registered participants would like a few pages from one of their sources to be one of the materials used in the collective discussion, they should send the sample pages to Claire Lemercier on 23 June at the latest. The source can be in any language but, for languages other than modern English, French, German, Spanish, or Italian, the participant should also send a short explanation of the contents.
As another optional preparation, participants are invited to consult the following texts:
For Lecture 1: Claire Lemercier, "Historical and archaeological network data", in Tom Brughmans, Barbara J. Mills, Jessica L. Munson et Matthew A. Peeples (eds.), Oxford Handbook of Archaeological Network Research, Oxford, Oxford University Press, forthcoming (2021).
For Lecture 2: Marten Düring, "From Hermeneutics to Data to Networks: Data Extraction and Network Visualization of Historical Sources," The Programming Historian 4 (2015).
Check our website for more information about the conference: http://hnr2021.historicalnetworkresearch.org/