About this Event
Are you a CIC client or friend? Then you are invited to celebrate with us. We only ask you to get a free ticket so that we know you are coming!
Why should you come to this party you ask?
Well, if you are fond of "oud Hollandse spellen" like "sjoelen", if you enjoy singing your soul out at karaoke or even if you just love chocolate, then this is a party you don't wanna miss.
Besides, we are asking all our clients to bring a taste of home to this party. Show off the good food you eat in your culture and let others get a taste. Are you in? Let the community team know so we can reserve a spot for you.
What time does this great party start? 17:30 sharp on Friday the 13th, after work, so you really don't have an excuse not to come ;)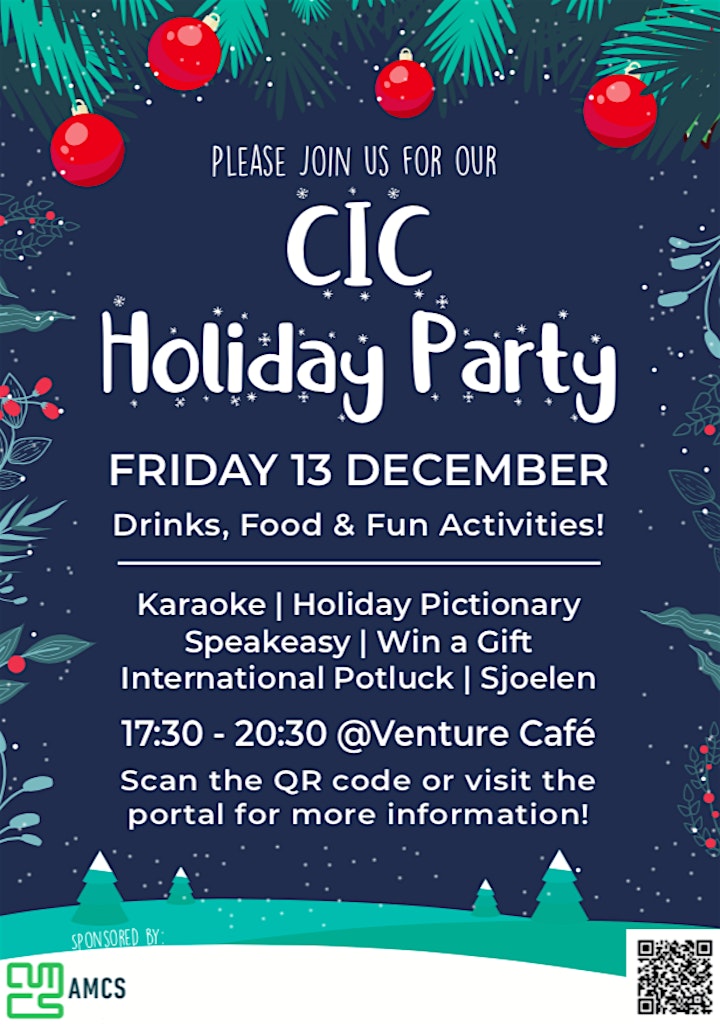 Programme
Decorate the Wendo in Hexagon: a cardboard life size Wendy with decorating props. You can decorate Wendy how you like and take a picture with #cicrotterdam
play games like oud hollands gatenkaas spel, oud hollands spiraalspel and oud hollandse sjoelbak heemskerk.
Play to win an entrance voucher to the Speakeasy Bar or the Gifts Room (Rhombus) at the ping pong table! You get 3 tries, if you lose you snooze. Let someone else have a go at it.
Gifts/Luck Room (Rhombus): you played at the pingpong table and won a voucher. You may pick out one gift box. Maybe you will win one of the 11 gifts or a pair of CIC socks, either way you will not leave empty handed.
Speakeasy Bar: get an old fashioned, a hot toddy or a ginger ice tea all made in house by our brilliant bartender Rico! In Average (VR room). Limited time only, between 18:00 - 19:30.
Challenge your friends to a karaoke sing off in Venture Cafe area!
Bring a taste of home and show off your culture at the international potluck table.
Get a delicious snack from the open buffet table and dip a fruit in the chocolate fountain for a treat.
You didn't think we forgot the gluhwein and hot chocolate milk with whipped cream did ya? Get yourself a warm cup of goodness.