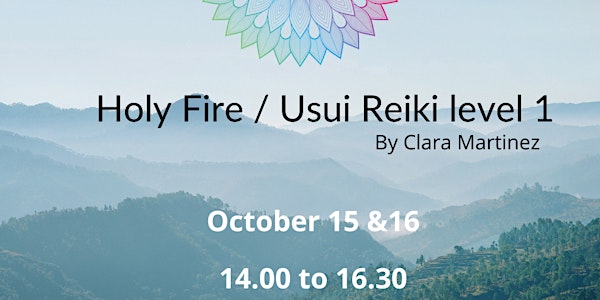 Holy Fire/Usui Reiki Level 1 - Certification
Get to know your energy flow ~ Learn to give Reiki to yourself & others! This is a beginner-level program.
When and where
Location
Prinsengracht 493 493 Prinsengracht 1016 VS Amsterdam Netherlands
Refund Policy
Contact the organizer to request a refund.
Eventbrite's fee is nonrefundable.
About this event
October, Saturday 15th & Sunday 16th - from 14.00 until 16.30
This is a beginner-level program where you don't have to have any experience or prior knowledge of what reiki is or does. I welcome students no matter where they are on their soul path and journey! I always shared the story when I did my first level of Reiki. I didn't even know what it was and what to expect, and I'm grateful for that every day. So, believe me when I tell you that this is a workshop for everyone, no matter where you are. As in all my workshops and classes, I create a safe space for everyone to come as they are.
During Reiki 1 you will learn how to treat yourself, which is the ultimate self-care/self-love action you can do to yourself. You will learn a stable, life-long practice of self-healing and discovery where you will start to explore more of your inner self and increase your intuition and spiritual awareness.
Reiki is an ancient Japanese technique that focuses on moving universal life energy to support the natural healing process. Reiki is a beautiful, soft, and powerful healing technique, it's a hug for your soul.
One of the things that I love about this program is that you are 100% supported in a safe, comfortable, validating, and judgment-free space where you can feel free to have all of your questions answered. We are all beginners at one time or another and it is my passion to support those who may feel like a "fish out of water" if this is something new to them.
**During Reiki level 1, we will be covering:**
- The history of Reiki
- The 5 reiki principles
- Self-treatment reiki and hand positions
- Self-Treatment Chakra Meditations
- Reiki treatments on others and hand positions
- Practice time includes giving and receiving a complete Reiki treatment
- Setting up a reiki space. Simple techniques to clean and prepare your practice space
- Start to finish reiki treatment techniques
- Rapid reiki treatments
**You will receive:**
- Reiki level one workbook, with more than 30 pages that include a checklist, meditations, treatment descriptions, worksheets & observation sheets.
- Certificate of Reiki 1 practitioner
- Access to a group for mutual support & guidance.
**_What students say about the Reiki training with Clara:_**
"I did my Reiki Training with Clara. I feel like I have constant support from her, which is very important on my path. I feel so inspired to share Reiki with others now. The class was so beautiful and interesting and I learned so much. She shares everything in a very simple way. Clearly, she is meant to be doing this work" - Melani.
'I did the Reiki Level 1 & 2 Courses with Clara. It was an amazing experience. I went to the class with a friend, I have never done any healing practice before. I don't even meditate. From the moment I met Clara, I was impressed. I was amazed at how easily I could feel the energy of Holy Fire and Reiki. She had such a huge positive impact on my life. I recommend this course to everyone. It really changed my mind." - Constanza
"She is an amazing, open, and happy person of light. She is very dedicated and knowledgeable and shared so much incredible wisdom, you can ask her anything and she will find a way to explain it to you overwhelming. The attunement was magical, I had an amazing experience. I appreciate that we get ongoing support from her. I can't thank you enough, you are a light worker.' - Adrian
**GOOD TO KNOW**
» The check-in closes 2 minutes before the start of each class with no exceptions. Make sure that you're 10 minutes early to be able to enter and enjoy our classes.
» Come fully dressed to ensure easy entry.
» We don't do refunds. In case of a later cancellation, you will be charged.