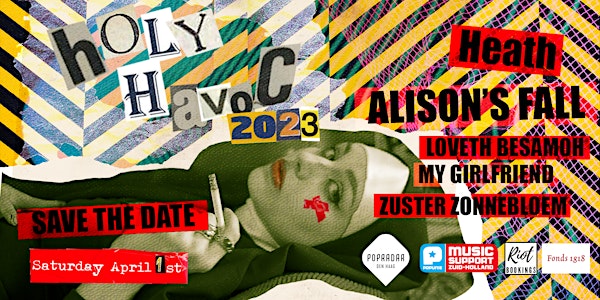 Holy Havoc Festival
An (un)holy celebration of alternative music from the Hague. One night, two stages.
Date and time
April 1 · 7pm - April 2 · 12am CEST
Location
Popradar Den Haag 4 Burgemeester Hovylaan 2552 AW Den Haag Netherlands
Refund Policy
Contact the organizer to request a refund.
Eventbrite's fee is nonrefundable.
About this event
An (un)holy celebration of alternative music from the Hague. One night, two stages. More names to be announced Soon! Old meets new. Holy meets havoc!
HEATH (22:30 - 23:30)
Those looking for three-and-a-half-minute hits are searching in the wrong place. Odd time signatures, blazing harmonica, and hypnotic guitars with a fuzzy 60's tone form the enigmatic 'Heath Sound'. The boys have built up quite a reputation in the Hague and beyond for their exhilarating live performances. A combination of structured jams, narrative lyrics, sound scaping and all-round psychedelics will take the Holy Havoc audience for a ride.
ALISON'S FALL (21:00 - 21:45)
With their brand-new EP 'Bad Time Stories under their belt, siblings Floortje and Pepijn van der Kooy are ready to rock Holy Havoc with their dirty, fuzzy rock music. Alison's Fall is ready for anything thrown at them. As the crazy, filthy guitar riffs created by Pepijn, explode into sound from silence. The bass lines by Floortje, crawl around with the rhythm section, hissing with venom and lust. All the while she sings with a mystery and seduction, inviting you in and to never let you go.
LOVETH BESAMOH (21:45 - 22:30)
Loveth is no stranger to playing in churches, growing up as a church percussionist in Cameroon. After moving to the Netherlands, he developed his own unique style from various influences. Backed by his eclectic band, Loveth comes rocking our Holy Havoc chapel with his blend of Electronica, afro rock, jazz, post-punk, and soul.
MY GIRLFRIEND (20:15 - 21:00)
Take a catchy chorus, add a raw-yet-easy-to-dance-to vibe, and then mix that with some growling riffs. My Girlfriend sounds like the lovechild of The Wombats and Blood Red Shoes. My Girlfriend will take on the Holy Havoc chapel MTV unplugged style wherein charismatic singer Gijs Schouten will take on the role of a true master of ceremony.
ZUSTER ZONNEBLOEM (19:30 - 20:15)
We are starting off with a ton of love and sunshine! With their old school psychedelic 70's sound, Zuster Zonnebloem (Sister Sunflower) is both vulnerable dreamy and crisp, as well as rough raw and out of control. Passion, love, and chemistry seeps through their performance while singer Hanne Brunekreeft pours her heart out through her hard-hitting and personal lyrics. Zuster Zonnebloem will open the Holy Havoc main stage on April 1st!
About the organizer
Popradar Den Haag is een Haagse organisatie die zorgt voor een levendige en diverse popscene binnen Den Haag. We beheren het grootste repetitieruimtecentrum van Den Haag en creëeren nieuwe lokale, nationale en internationale kansen voor Haagse acts en muzikanten.
Op de locatie in Loosduinen beschikken we over 20 repetitieruimtes, een professionele geluidsstudio, verschillende les- en presentatieruimtes, het Radarcafé met wekelijks programma en de grote Radarzaal die je kunt huren voor optredens, feesten en meetings. Daarnaast worden er muzieklessen en bandcoaching gegeven door onder andere Ready To Play en Drumschool Stefan van de Brug.
Haagse acts kunnen bij Music Support aankloppen voor advies en (financiële) ondersteuning binnen hun route naar verdere ontwikkeling. We verbinden muzikanten, coaches, boekers, producers, publiek, beleidsmakers, initiatiefnemers en poporganisaties met elkaar.
Jaarlijks organiseren we de Haagse Popweek, een lokaal popfestival in de stad. Tijdens de Herfstvakantie vragen we een week lang aandacht voor Haags opkomend poptalent. De Haagse Popweek fungeert als een etalage van wat er momenteel speelt op het gebied van genres als pop, rock, indie, singer-songwriter, urban/hiphop en elektronica en is ook een week waarin talentontwikkeling centraal staat.
We beheren het alternatieve muziekplatform Submarine, dat altijd op zoek is naar nieuwe alternatieve muziekstromingen. SuBmarine is een laboratorium voor spannende, grensverleggende en nieuwe undergroundprojecten en begeeft zich op onbekende muzikale terreinen.