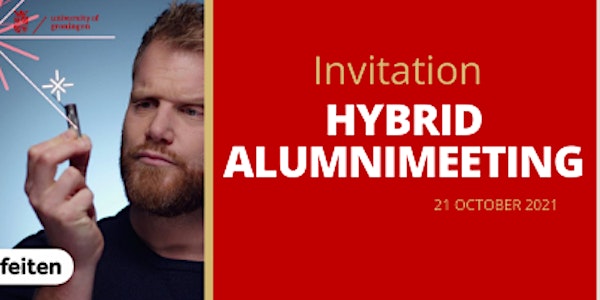 Hong Kong Alumni Meeting 21 October 2021
Meet fellow alumni from the University of Groningen and other Dutch Universities
About this event
On behalf of the Dutch universities and the Consulate General of the Kingdom of the Netherlands in Hong Kong, we would like to invite you to an NL alumni meeting on 21 October with Emil van Oers (NOS op 3).
Small group gatherings are allowed again in Hong Kong. This is also the reason that we have space for 15 people at the Chamber of Commerce. Do you still prefer to meet fellow alumni from your home. You are welcome to join us online, just save your ticket for your preferred session via this link.
We have an interesting programme for you starting with a word of welcome by Arjen van den Berg, the Consul General of the Kingdom of the Netherlands. We will continue with an inspiring keynote speech by Emil van Oers. Emil is explainer on NOS op 3 and alumnus from the University of Groningen, Radboud University, and the University of Maastricht. He will share insights about innovative journalism and the start of explainer video's in the Netherlands. In total his explainer video about the Coronacrisis had more than 5 million views (including Facebook, IGTV, and NOS-player) and stayed in the Top 10 throughout 2020. After publishing it went straight to the 1st place in the trending lists and stayed there for a while.
After the keynote you will have time to network either in the Chamber of Commerce, or online with your university in a breakout session. There is ample time to ask your questions and reconnect with your alma mater, fellow UG-alumni, and alumni from other Dutch universities.
Curious about Emil's explainer videos? You can already watch his videos about: the housing crisis, Afghanistan, and the art of getting rich (all in Dutch).
Besides UG alumni, alumni from the following universities will also participate:
Erasmus University Rotterdam, Leiden University, Rotterdam School of Management - Erasmus University (RSM), and Utrecht University.
Just sign up via this link if you would like to join the meeting. You will then receive the Zoom link on the day before the event.
We look forward to seeing you on 21 October!