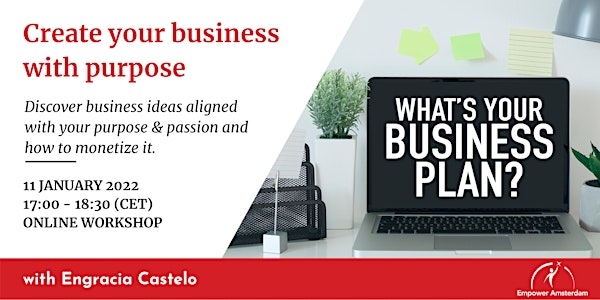 How to Create a Purposeful Business
Discover business ideas aligned with your purpose & passion and how to monetize it.
Refund Policy
Contact the organizer to request a refund.
Eventbrite's fee is nonrefundable.
About this event
If you are like most people who are looking to crack the code to a more purposeful life and work, then you're probably reading and following a lot of threads on social media from successful people who are now doing what they love, what they are good at and getting paid for it.
In this 90-minute workshop, you too can learn how to monetize what you love and are good at by doing something the world actually needs. The "Create your Business with Purpose" workshop will help you re-discover what you love, identify what you are good at, what the world needs and how you will get paid for it!
4 reasons THIS WORKSHOP is what you need to finally start living aligned with your purpose and make money from it:
You will answer the questions: Who am I, what drives me, what are my talents, what makes me happy?
You will discover how you can give substance to your Ikigai within your life and work or business.
You'll discover what you love, what you are good at and something the world needs. A combination of all these will bring you to at least 4 business ideas you could start working on right away.
You'll learn about GOAL setting & the traits of success, and how you can use it to benefit you.
*Would you kindly consider making a donation of 10 euros if you are able? Your donation goes to support the NGO Empower Amsterdam's mission of helping unemployed professionals get back to work.
About the Facilitator
Olá, I'm Engracia. Multi-passionate, multi-lingual and an unshakable optimist dedicated to serve. Formerly a Happiness & Business Coach, I now help businesses drive growth through sustainable & purpose-driven innovation. I am the facilitator of this Workshop, where I've bundled all the key knowledge from different practices and my own experience to create a custom tool to help you discover your heart-centered and purposeful business.
More info about the facilitator is available at: https://www.duranatura.com/