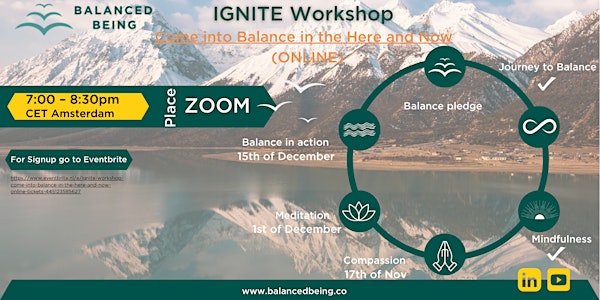 IGNITE Workshop: Come into Balance in the Here and Now (Online)
Most effective workshops for and with leaders. Find your answers to: How can I find balance in today's restless world? Goosebumps included
About this event
Balanced Being is hosting a series of interactive online sessions every second Thursday at 7pm CET (Amsterdam).
Thursday, Oct 20: Journey to Balance
Thursday, Nov 3: Mindfulness
Thursday, Nov 17: Compassion & Communication
Thursday, Dec 01: Meditation
Thutsday, Dec 15: Balance in Action
During these short & concise sessions, participants are guided through one signature exercise with one key learning skill around a broader topic of well-being in the workspace.
What's the purpose?
The goal of the IGNITE series is to bring awareness and felt experience of the practitioners the increase in quality of life that each being can tap into when deliberately investing attention to practice. These events give practitioners a playground to dive inwards, explore daily situations from different perspectives, and ultimately build a tool kit to get back into balance amid all stress and chaos that may arise.
What's the structure?
Designed to make good use of limited time, each session follows a simple flow: a quick assessment of the state of balance at the beginning of the session, one exercise to experience balance from a different lens, a short assessment of the effect of the exercise on the practitioner's well-being.
What will I learn?
In each session you will learn one key skill. Most importantly, we provide you with a toolkit to assess your current state of balance, before and after each intervention. This means you will see for yourself, if your time investment has an impact on your well-being - live and on the spot.
About Balanced Being
Balanced Being is a growth platform for individuals & teams integrating eons of wisdom into simple skills & practices for complete balance in the workplace and at home through dedicated training programs. Most notably, Balanced Being is known for offering bespoke online and offline training interventions for organizations in fast-moving industries. Founded as a cooperative, Balanced Being offers a wide range of opportunities for advocates of well-being to participate in its ecosystem.
Want to learn more? Sign up to our newsletter here: https: www.balancedbeing.co/newsletter
Follow us on LinkedIn!
https://www.linkedin.com/company/balancedbeing/