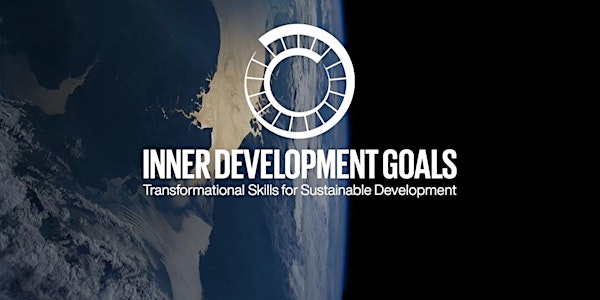 Impact starts from within - Inner Development Goals Workshop @Zoku
Find out about and experience the 23 human qualities and skills that accelerate the 17 Sustainable Development Goals.
Date and time
Tuesday, February 28 · 6 - 7:30pm CET
Location
Zoku Amsterdam 105 Weesperstraat 1018 VN Amsterdam Netherlands
About this event
Becoming a force for good.
Can we solve problems with the same mindset that created them?
Personal development is key to societal change: the Inner Development Goals is a global initiative, supported by universities, leaders, civil society organisations and companies worldwide, fostering the human qualities and skills that are needed to achieve the 17 Sustainable Development Goals, developed gathering data and validating methods with the help of researchers, activists and thinkers from around the globe.
Their aim is to educate, inspire and empower people to be a positive and active force leading change in society.
Organisations like Google, Ikea, Ericsson, Spotify, and many more, have already embraced the framework as the greatest possible accelerator to reach the Sustainable Development Goals.
To envision, push and implement change in a complex global paradigm, we need to be the individuals who have changed their inner paradigm.
Discover more about the IDGs in the launch video here.
During the workshop we will:
discover the IDGs' 5 dimensions, 23 skills, the open access toolkit, and the co-creative free for all approach behind this global initiative.
experience the practical application of the IDGs
find out how they can be developed personally, or implemented in the work of teams and organisations
Enjoy the drinks in the vibrant atmosphere of Zoku Amsterdam

The event is presented by Maria Grazia Testa - The Best Journey Ever

Maria Grazia Testa is an executive leading for more than 20 years the strategy, direction and management of global and international organisations, running operations in 6 continents, within the private, public and NGO sector. Next to her professional and societal commitment, she has been practicing Vajrayana and Atiyoga for 25 years. Her organization, The Best Journey Ever, leads IDGs and SDGs geared leadership Transitions and Transformations. We stimulate organisations and leadership to Change, and do so wisely, in complexity, while unleashing the full potential of people and enabling the right business processes practically.