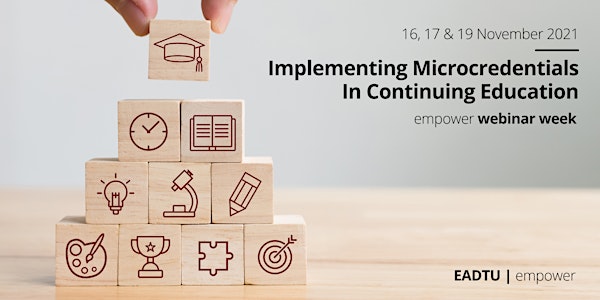 Implementing Microcredentials in Continuing Education
Empower webinar week: Implementing Microcredentials in Continuing Education
About this event
Programme
This day will consist of brief presentations on the concept of micro-credentials, the benefit of micro-credentials for learners and employees, as well as their impact on existing qualification systems. In particular, the session will explore what we know as well as what we can learn from current European developments and research literature.
14:00 - 14:30 Mark Brown Chair in Digital Learning and Director of the National Institute for Digital Learning, DCU / NIDL
Looking at the Literature: Micro-credentials Under the Microscope
This contribution reports some of the findings from a comprehensive review of the literature on micro-credentials and their relationship to underlying drivers, including lifelong learning, employability and the changing nature of work. It outlines the research questions, the tripartite methodology, the sample of literature and the inclusion and exclusion criteria that defined the scope of the review. Placing the literature under the microscope, the presentation provides several insights, critical observations and major takeaways on the growth of the micro-credential movement.
14:30 - 15:00 Lynn Ramsey Programme Lead for MicroCreds, Irish Universities Association
Insights from MicroCreds: Irish universities collaborative approach to micro-credentials
This presentation will consider the experiences of seven Irish Universities Association universities working collectively though MicroCreds, a five-year €12.3 million project funded under the Human Capital Initiative. The presentation will share insights from Ireland on a national approach which is European focused in outlook and design. Dr Ramsey will explore progress on the creation of a national framework for micro-credentials. MicroCreds initial work has focused upon learners wishing to reskill, upskill or change careers and is piloting an enterprise engagement methodology which brings together future skills data, enterprise and public sector and academia to co-design innovative micro-credentials
15:00 - 15:30 George Ubachs Managing Director, EADTU
Modularisation of continuing education by microcredentials
During day two we will look at designing, piloting, and implementing micro-credentials on an institution-wide basis or at a national level. A panel of leading educators working in the area will share their experiences of micro-credential implementation initiatives with interest strong strategic intent.
14:00 - 14:30 Matt Stanfield-Janner Director of Learning, FutureLearn
Highlights and challenges from launching over 50 accredited microcredentials at FutureLearn
Matt Stanfield-Jenner, director of learning, will share their perspective and 'story so far' from FutureLearn. We work with over 250 partners worldwide to build, launch and teach online courses. This includes over 50 accredited microcredentials which each have between 100-150 hours of learning and come with university credit. We launched seven of our first microcredentials in early 2020 from some of the most innovative universities in the world including Dublin City University, The Open University, Deakin University, The University of California, Irvine Division of Continuing Education (DCE), Monash University, and Queensland University of Technology. Our move to launch microcredentials came in direct response to demand from both partners and learners. It was also just before the sudden pivot to online which came with both opportunities and significant additional challenges. Matt will share the highlights in this talk and open up for a chance to have discussion with the audience and other speakers.
`14:30 - 15:00 Maija Urponen Una Europa / University of Helsinki
Developing micro-credentials in European collaboration
Maija Urponen is Senior Advisor at the University of Helsinki and local Operational Lead for Una Europa. Her presentation will focus on the micro-qualification in Sustainability that is being developed by the Una Europa alliance.
15:00 - 15:30 Francisco Iniesto, Open University (UK)
Introducing the guidelines for assessment and recognition of microcredentials
In this presentation, Iniesto will introduce the models and guidelines for the assessment and recognition of microcredentials through the review of literature, good practices, and existing guidelines. This framework is designed as part of the European MOOC Consortium – Labour Markets project (EMC-LM). For that reason, the Common Microcredential Framework (CMF) developed by the EMC is important as a reference list to produce the guidelines. This framework maps the elements of assessment and recognition, allowing MOOC platforms, universities and employment services to place microcredentials and similar courses in context. This framework has the potential to form the basis for assessment and recognition between MOOC platforms in Europe.
15:30 - 16:00 Frederik Truyen, Professor, CS Digital KU Leuven
The design of joint microcredentials. Key steps
On day 3, we will have a lively panel discussion on the following themes: introducing Microcredential qualifications; implementing Microredentials at the national and institutional level; responding to the needs and of learners and the labour market.
1. Where are the gaps?
2. What types of policies do we need to support micro-credentials?
3. Who else needs to be involved in the discussion?
4. What could go wrong with micro-credentials?
5. What research still needs to be undertaken?
Moderator Liz Marr (Vice-President EADTU, Open University UK)
Panellists Lynn Ramsey (Programme Lead for MicroCreds, Irish Universities Association); Deborah Arnold (National and international projects coordinator AUNEGe); Jenneke Lokhoff (NUFFIC); Yann-Mael Bideau (Policy Officer, European Commission)