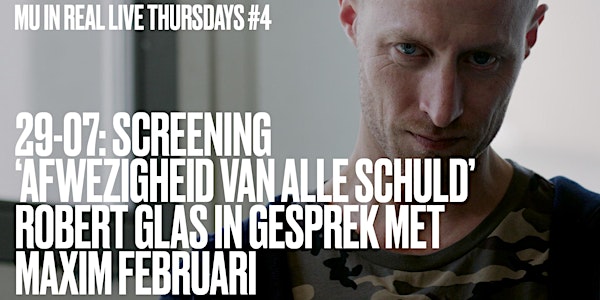 In Real Live Thursdays #4: Afwezigheid van Alle Schuld
Filmvertoning & Robert Glas in gesprek met Maxim Februari
When and where
Location
MU Hybrid Art House Torenallee 40-06 Eindhoven Netherlands
Refund Policy
Contact the organiser to request a refund.
Eventbrite's fee is nonrefundable.
About this event
Note: the evening will be in Dutch
Wanneer voelen we ons veilig? En geldt die veiligheid voor iedereen in dezelfde mate? Hoe weten we of iemand die al eens in de fout ging in herhaling valt? Valt zo'n risico te berekenen? En als het antwoord ja is, hoe zeker mogen we ons dan eigenlijk bij zo'n berekening voelen?
Ook al leven we hier in Nederland in betrekkelijk veilige omstandigheden, politiek en maatschappelijk zijn risicoanalyses en -inventarisaties aan de orde van de dag en lijken dreiging, angst en wantrouwen in toenemende mate het beleid maar ook onze kijk op elkaar te beïnvloeden.
Kunstenaar Robert Glas en jurist en schrijver Maxim Februari zijn beide gefascineerd door dit soort vragen en processen. Glas maakte er tijdens zijn verblijf aan de Rijksakademie een video-installatie over, met de veelzeggende titel Afwezigheid van Alle Schuld.
Februari zag dit werk en verwees ernaar in één van zijn columns voor de NRC. Dit leidde tot een correspondentieover data-analyse in criminologie, recidive en veiligheid, controle en onrust en de mate waarin technologie en artificiële intelligentie hierbij een rol spelen. Reden voor MU om beide uit te nodigen om hun gesprek publiek te maken in het kader van de expositie Real Feelings over de relatie tussen emotie en technologie.
Donderdag 29 juli vanaf 20.00 uur vertonen we na een korte inleiding door Robert Glas op zijn werk eerst Afwezigheid van Alle Schuld waarna Glas en Maxim Februari bij MU met elkaar in gesprek gaan over de vele en vergaande implicaties van het werk en de achterliggende politieke, juridische, maatschappelijke, technologische en emotionele kwesties.