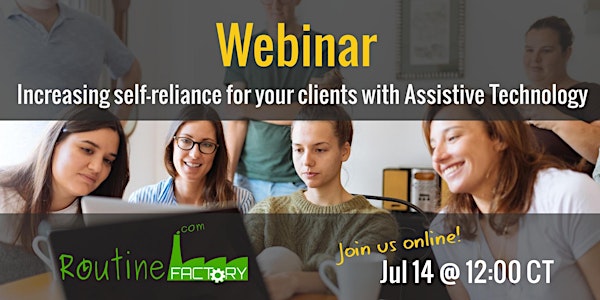 Increasing self-reliance for your clients with Assistive Technology
Increasing self-reliance for your clients with Assistive Technology
About this event
We understand the hesitation that comes with exploring new technologies. Over the years, we have worked with our customers to create the most effective and user-friendly assistive technology designed for clients of all ages and abilities.
RoutineFactory was born out of the need and desire to create a tool designed to assist individuals with disabilities to become more independent and reduce stress on staff. With the RoutineFactory Information Board clients can easily find answers to their daily questions: What task is next? What is for dinner? Who is working today? Do I need to wear a coat when I go outside?
During the demonstration, we will show you how the Information Board can be used in your assisted workplace, assisted living facilities, or for your clients who live independently. As well as the RoutineFactory app. The app is used by clients so they can easily view their schedule and receive step-by-step guidelines that are managed and customized to the clients' specific needs and abilities. Ready to learn more about RoutineFactory? Sign up now to learn more! We look forward to meeting you!