Find out all about the hybrid facilitation course by Mischief Makers
About this event
Our hybrid Facilitation Course 'Leading Groups' empowers you to make meetings more human, engaging and efficient- whether it's online, offline or a mix of the two #hybrid!
👉 At this info event we share details about the course, answer any questions you might have and hear about the experience of some of our course alumni.
Join us for a quick, mischievous session and find out if this course is for you! 🙌
GENERAL:
📆 Next course starting date: 19th of October
🌎 Join from wherever you are: this course is available online (anywhere) & offline (Amsterdam)
🌐 https://www.mischiefmakers.co/leading-groups
💛 Mischief Makers is a Facilitation Agency bringing energy and enjoyment to working and learning. We transform meetings, workshops, programs and conferences into engaging, interactive and meaningful experiences.
IN THIS SESSION
In this session we'll give you a taster of what it means to be in a mischievous session, tell you all you need to know about the course and have time to answer any of the questions you might have
Course Outline & Contents: how does the course flow, what topics are covered and which modes of learning are used throughout the course.
Alumni experiences: we'll have some alumni join this session to tell you about their experience first hand.
Q&A: we will answer any of your questions.
HOW WE'LL DO THIS
We'll be using Zoom as a platform, which is free to download.
This session will be hosted in English.
LITTLE SNEAK PEEK INTO OUR MISCHIEVOUS SESSIONS… 👀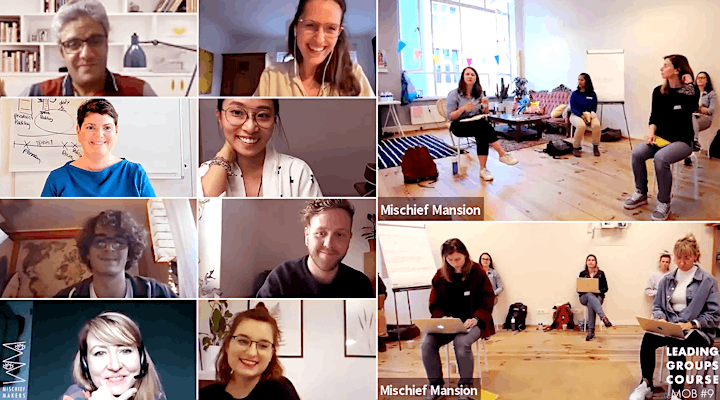 Check out our website for more information.
Mischievous regards; We're looking forward to meeting you!
Organiser of Info event: Leading Groups Facilitation Course