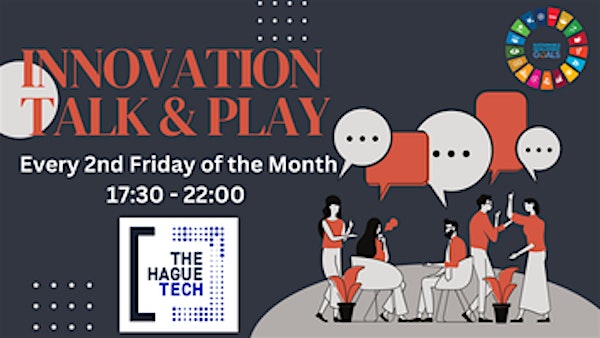 Innovation Talk & Play @THT
Talk social & tech innovation while playing poker, Dutch Joker Poker-style.
Date and time
Friday, June 9 · 5:30 - 10pm CEST
Location
The Hague Tech 35 Wilhelmina van Pruisenweg 2595 AN Den Haag Netherlands
Refund Policy
Contact the organizer to request a refund.
Eventbrite's fee is nonrefundable.
About this event
4 hours 30 minutes

Mobile eTicket
Attention all tech enthusiasts and entrepreneurs! Are you looking for an opportunity to network, learn about the latest social & tech innovations, and have some fun at the same time? If so, you need to join Innovation Talk & Play!
Held at The Hague Tech (THT), this monthly event is a unique opportunity to connect with like-minded individuals who share a passion for social and tech innovation. Whether you're a seasoned entrepreneur, just starting out or even just in the exploring phase of your entrepreneurial journey, you'll find a welcoming community at Innovation Talk & Play.
The highlight of the evening is a lively game of Texas Holdem, played Dutch Joker Poker-style, where participants can test their skills and have a great time. Co-organized by Alvin Leito, the mastermind behind Dutch Joker Poker, and THT, this event promises to be an unforgettable experience.
In addition to the poker, there will be opportunities for attendees to learn about new technologies and innovative ideas. Whether you're interested in exploring the latest advancements in AI, blockchain, or any other tech area, you'll find something of interest at Innovation Talk & Play.
So why wait? Join us every 2nd Friday of the month for a night of innovation, poker, and fun! RSVP now to secure your spot!
‼️ The game night schedule and game play for the night:
1. From 17:30 to 18:00; Walk-in, networking time and short introduction workshop for participants who need a refreshment or who never played poker before.
2. From 18:00 to 18:15; Introduction round: each person gets around 2 minutes to introduce themselves and you get a chance to ask the most burning business question or request for possible introduction you currently have.
3. We start the first round of play after the introduction round and a 2 hour timer will be set at start, and each player can ask for a max. 3 minute time-out to explain or expand on their question or request.
4. During the game any player can start discussing an idea they had about someone else's question or request. If the majority wants a time-out, for a break or discussion the timer gets paused.
5. Players can leave before the 2 hours are finished, however the eventual chips they leave behind will be counted when the 2 hours ends. Also, for the duration of the first round the dealer will keep putting the small blind and big blind for the player(s) that left the game.
6. During the first round players who lose all chips can rebuy for € 10,- if they want. 
7. Around 19:00 we take a 30 minute break for some (more) drinks and pizza.
8. Last round; After the first 2 hours of game play, if two or more players want to continue playing an "all or nothing"* round, the game continues for maximum 1 more hour, but without possibilities for rebuy if they lose all chips. Only at the start of the last round players can decide to do one last rebuy, even if they haven't lost all chips. Players who don't want to continue playing and/or just want to watch the game or continue networking are free to do this too during the eventual last round. 
9. The equivalent worth of the (eventual) chips players end the game with gets deposited in their bankaccount, or paid through the Tikkie they send afterwards before days end.
10. *"All or nothing" doesn't mean that at the end of the 1 hour one player needs to have all chips and the other none. It only means that if you go all-in in this round and you lose, there are no more chances for you to get back in the game to try to win your chips back. However, if you decide to leave before the last round ends, the dealer will also need to play your small blind and big blind rounds for you.
💡 Some other things you might want to know:
The type of poker we play is Texas Holdem, but we play it Dutch Joker Poker-style. In Dutch Joker Poker, you play poker with a twist. Where there are normally 2 Jokers in a game of joker poker, Dutch Joker Poker has 3 to 6.
🃏 You can play Dutch Joker Poker with the DJP - Carbon Neutral Premium Playing Cards. `
Before we start playing there's going to be an introduction to how to play poker Dutch Joker Poker style. If you can't wait to learn on that day, check the DJP website for more info: www.dutchjokerpoker.com (password: DJP 🤫)
⁉️ Costs for the event
€ 20,- on Eventbrite, excluding Eventbrite fee
There is also the option to pay with tikkie or cash before event
💰 The general pot is to bring the skin in the game element to the event, because every innovation has its risks and rewards. Having each person contribute only €10,- to the pot gives the opportunity to have more people, and more tables playing during the event without creating large general pots with winnings triggering gambling tax payments.
💎 What do you get?
€ 10,- goes into the general pot and € 10,- goes for covering the drinks, snacks & pizza (only vegetarian and vegan options available).
🎁 Each event winner, the player who ends winning most chips, gets an official cardboard card deck of Dutch Joker Poker.
🧭 Every new participant gets an invitation into the LinkedIn-group for DJP Innovators. This way you can connect with all participants, share and help each other in our journeys in bringing social and tech innovations to the mass.
About the organizer
The Innovation Talk & Play @THT events are co-organized by Alvin Leito and THT.
These nights are all about social and tech innovation & playing poker, literally. No other talks allowed during the event! So did you just break up with your partner and want some listening ears, this is the wrong event for you, fam