Description
This Insides club night (New Seeds edition) has a terrific line-up with The Field (Sweden), Luke Abbott (UK), Fairmont (Canada), Mattheis and Stefano. Prepare for a night packed with melodic techno that will make you space out, let go and that will definitely touch you. The Insides club night will take place at the WesterUnie, the raw, industrial and impressive club right in the middle of the Westergasfabriek lot. We're going to start early and we will go on well into the wee hours. (En)joy!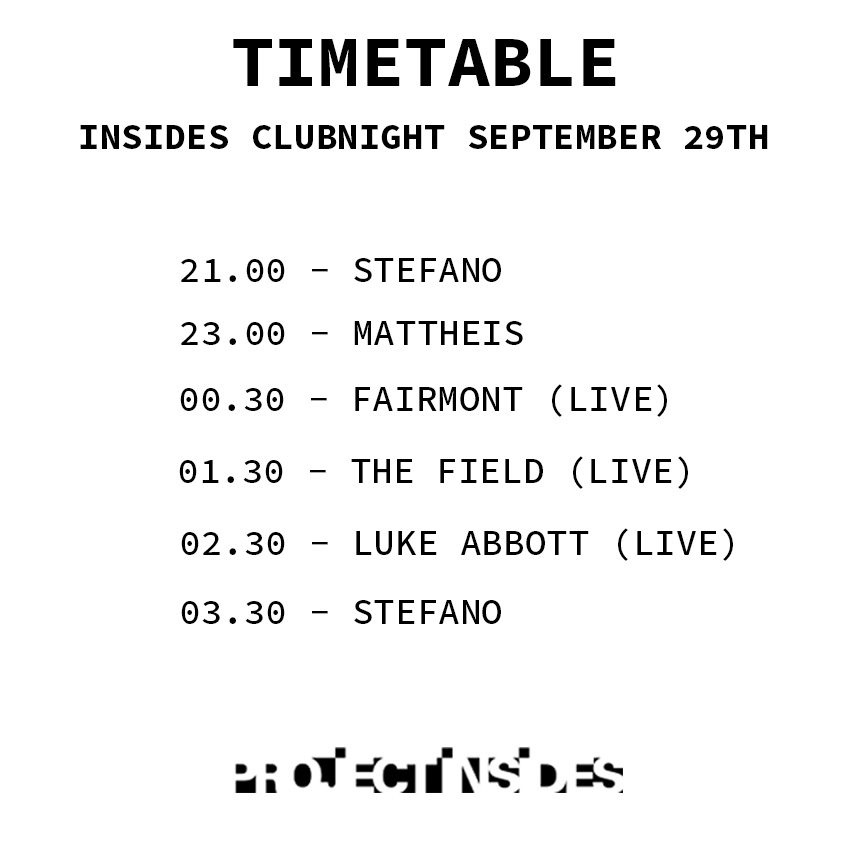 The Field
The Field aka Axel Willner is definitely the hypnotist among techno producers. No one can quite put a spell on you like this Berlin-based Swede. He drops a beat that he often keeps going for ten minutes, but he continuously changes little details, and before you know it your jaw will drop and he will have you in his power. But his repertoire extends way beyond that. Like no other, he mixes micro samples of pop songs with atmospheric minimal techno. It has been far too long since this Kompakt colossus was seen and heard live in Amsterdam!

Fairmont
Fairmont aka Jake Fairley is a producer, live performer and DJ from Toronto, Canada. He has published countless releases for labels such as My Favorite Robot, Border Community, Kompakt and Beachcoma. Today he flies over from Barcelona to let his live performance take you on an amazing trip.

Luke Abbott
Luke Abbott is an English electronics wizard from Norwich, Norfolk. Together with James Holden and Nathan Fake, he is the man who made the Border Community great. Today he publishes his music under his own name and under his Earlham Mystics guise. Tonight, he and his melodic techno DJ-set will take you places you didn't know existed.