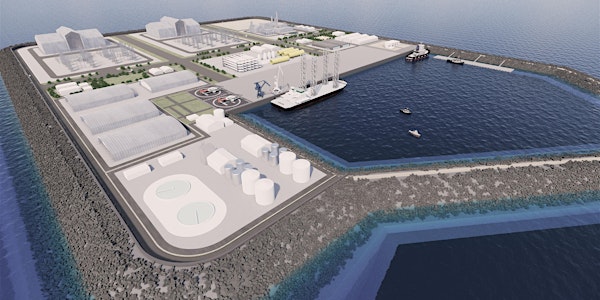 Int. 2-day online seminar on Multi-Functional Artificial Energy Islands
Sales Have Ended
Registrations are closed
The sale for tickets for the International 2-day conference on Multi-Functional Artificial Energy Islands has been closed. If you wish to join, please contact us at secretariaat@offshoreservicefacilities.nl
April 7, 2021 10.00 - 14.45 || April 8, 2021 12.30 - 17.30
About this event
Offshore wind energy will play a major role in a future CO2-free energy supply system. Transport of energy and integration in the energy system is the next big challenge.
Offshore energy infrastructure will be needed with (inter-)connections from and between wind farms and to shore. Hubs will create a flexible and reliable network. Artificial islands in wind energy areas will facilitate this grid with a solid ground for high voltage or hydrogen production equipment and will serve as a base for operation and maintenance activities and opportunities for other usages such as seaweed pre-processing or data hotels and thereby bring interesting social and economic benefits and (knowledge) export opportunities.
We@Sea and Offshore Service Facilities (OSF) organise an international two-day seminar on these multifunctional energy islands in the North Sea. During this seminar, we want to share knowledge and insights and aim for furthers steps and investigations necessary for the development and realisation of a pilot and get a picture of the ideas, challenges, and (im-)possibilities of multifunctional energy islands.
The following sessions with multiple speakers are on the agenda;
Keynotes: Setting the scene
Electricity
The role of hydrogen
Concepts and design
Ecological aspects
Legal aspects
Co-use and sharing
Conclusions and next steps
For any questions on the event, please contact us at secretariaat@offshoreservicefacilities.nl