Description
Welcome to the business club with the new name the 'Intelligent Millionaires Network' in the Netherlands. At the moment this is the fastest growing business club in the world, with chapters in 20 countries already and more to come! Our local Chapter started in Amsterdam, with already more than 50 members from all over the Netherlands. Our mission is to create platforms where entrepreneurs and investors meet each other and go beyond networking by actually doing business together or by sharing their network by making introductions.
Our next event that YOU can be part of is on Januari 12th 2-17 our well known venue in Hoofddorp.


SPEAKER
Gerard de Graaf is a successful entrepreneur with an amazing journey
Born in an entrepreneur's family in 1973. he had a promising start as a speed skater in his teens.
Worked in his twenties as an international DJ throughout Europe and organized (extreme) sports events all over the world. In his thirties he became an asset protection specialist, serial entrepreneur and an angel investor. And Now he runs 5 companies. He is CEO of an international orientated Shipping Management and Catering company named cruisnic, where we focus upon complete catering concepts including the full operational needs such as the provision of onboard food and beverages and the staffing via secondment of hotel crew on river cruise ships sailing on the European rivers and canals in the Netherlands and Germany. Gerard de Graaf is an experienced entrepreneur and is specialised in Group structure, Tax planning, Marketing (branding en identity) and setting up and automation of HR and Financial processes.
He also became the 1st BASE Jumper in Europe (and maybe the world) to jump in 2016, being in freefall at 00:00:00 and land in 2017. To make you business grow It takes courage to take the jump and persistence to get the world at your feet.
PRIME VENUE LOCATION
Crowne Plaza Amsterdam-Schiphol is again our host for this event. The hotel has easy access to the motorway and the airport and is therefore perfect for national and international meetings.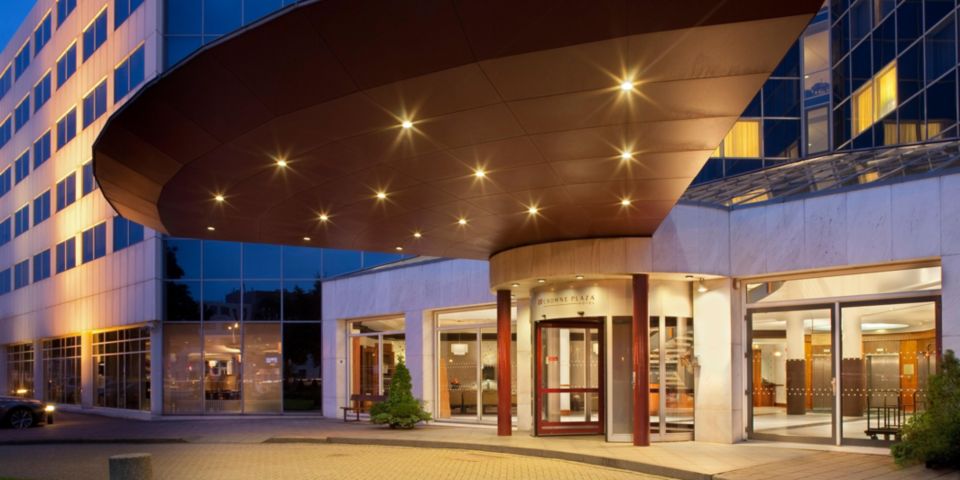 MEMBERS AND GUESTS
We are a members only club, so all full members are cordially invited to this event. You will get the opportunity to network with the main speaker as well as with our other speakers. Members are encouraged to bring guests, because the more value in the room the more business and potential deals are in the room.
Dress code is Business casual! Look like you belong. Men, if you wear a suit and tie you will stand out. Ladies, wear a nice suit / skirt / blouse. So NO worn jeans / T-shirts / sandals. Members please be a good example, dress like you belong. Let's keep each other accountable!
If you invite your business contacts you can give them the value of a free ticket, worth €100, but also introduce them to high level people that will enable them to expand their business and find deals. Giving value to your guests is investing in the relationship!
Register yourself by selecting 'Member access'. Register your guests by selecting 'Guest access' tickets, using the discount code that you have received personally via email.
Are you not a member, don't know a member but want to come to the club?
Please send us an email to club@intelligentmillionairesnetwork.nl and we will invite you as our personal guest.
This event page will be updated regularly, please check it out frequently.
Please use this link: www.intelligentmillionairesnetwork.nl
if you want to share this page with people in your network.
Follow us on facebook for posts and updates..
SCHEDULE
17:00 - 18:00 Master mind for club members
17:45 - 18:30 Registration & Networking
18:30 - 18:45 Opening remarks from club owner introducing club
18:45 - 19:15 Case study
19:15 - 20:15 Main speaker / Education / Content.
20:15 - 20:25 Members talk about new deals and business success
20:25 - 20:30 Club Owner Closing Remarks
20:30 - 21:00 Members and Speaker private Networking / Photo Session
21:00 - 21:30 Networking
21:30 - End of the official part of the event, however feel free to stay and network.
22:30 - Offical end of the evening,
THE INTELLIGENT MILLIONAIRES NETWORK NL
- Is a members only club. Non-members may attend one time.
- Is the Dutch chapter of the global network created by JT Foxx.
- Is part of the world's #1 Business and Networking Club.
- Is there to elevate your business, passive income / wealth, real estate, and health.
- Is not a selling club and is focussed on education and having members do deals together
- Is for people who are looking for partners, capital / funding for their business, or to invest in other business

The Intelligent Millionaires Network is a global club which attracts everyone from high net worth individuals, startups, business owners, property investors, and prominent local celebrities. It's part of a global network of network clubs in the USA, UK, Canada, Scandinavia, Asia, Canada, Australia, and all over Europe. The idea is not only for entrepreneurs and investors to network and do business with each other locally but for you to connect to our global network and take your ideas to the next level. It's also a place to raise capital, put your own capital in play or look and compare at numerous passive investments from all over the world. Finally we added a health component to the club. You can have all the money in the world but if you don't have your health, then doesn't really matter. The Intelligent Millionaires Network is a place where finally you can be around high level like-minded individuals who will build each other up, rather than tear you down with negativity. Our mission is to learn, earn, and return. Remember who you spend time with is who you become.


FAQ
How Do I Join?
To join the club, nonmembers are asked to register to attend a club meeting for free. To join the club, you can join at the monthly club event. This club is a members-only club. Non-members are able to attend one time for free to see if they would like to join.
Is This Club For Me?
Our members are entrepreneurs / small business owners who are looking to better themselves and grow their business. When you become a millionaire underdog, you will get education each month pertaining to your business, you will get introduced to other businesses in your area and all over the world. If you are a business owner looking to grow your business and become the top 1%, this club is for you.
What is the cost of the club?
Your first meeting is free as a non-member so you can get a first hand experience of what it would be like to become a member. All of the club locations do not sell products. We are a club that brings people together to do deals and better their business, not to sell you things each month.
What is the Club Vision?
The Intelligent Millionaires Network is a global club themed with the tag line of "Elevate Your business, Property investment, Passive Wealth, & Health". There will be local clubs that are city based but the whole world will be able to join and network with each other. The idea is to find good investments, partnerships, advanced health information, and world perspective. There will be super high level speakers. We are here to do deals together. There is no selling at this club! The idea is for members to get educated and do deals together. Not only on a local level, but connect all around the world, creating a powerful global network and amazing relationships. It will attract very high level local influential speakers, investors, and health experts. You will be very impressed with the quality of attendees and speakers. This is not a "get rich quick club" but a "let's do deals club".
How do I network with other businesses nearby and worldwide?
After becoming a member of the club, you will be invited to networking meetings / meet-ups both locally and worldwide every month. These meetings are free to members. As a member you also have access to our online member portal, which connects you to other club members worldwide.
What happens after I register online?
You will be called to confirm your registration and you will get a confirmation email with the event details.
Can I bring guests?
Yes. If you are not a member, you can attend a club meeting one time for free. Both you and your guests may attend the club meeting for free one time and you can bring as many people as you would like.
As a member, you are encouraged to bring nonmembers to the club as well. They too are allowed to attend one meeting for free. As a member, all club meetings are free for you to attend.
The more people there, the better the networking and possible deal making opportunities. Remember if you bring value to the table, others will do the same for you. Just make sure your guests are registered so we can plan ahead. They can register via the website www.intelligentmillionairesnetwork.nl.
Where can I check to see where the event will be held?
If you have or have not registered yet, you can check online at www.intelligentmillionairesnetwork.nl. If you are registered, you can also check your emails; a registration email will be sent to you upon registering for the event and a confirmation email will be sent to you a few days leading up to the event.
Who do I contact if I cannot make an event?
f you have registered but cannot attend, that is ok. You can email us if you prefer, club@intelligentmillionairesnetwork.com to let us know. Otherwise, we will just see you next time! Follow us on Facebook www.facebook.com/IntelligentMillionairesNetworkNL for updates on future club events.
How can I leave a testimonial for the event I attended?
You can email your written / video testimonial to club@intelligentmillionairesnetwork.com and we will post it online
Is the Club connected to the Coaching Organization?
No. The club is separate from the Foxx Organization / Top1 Coaching. The club runs on JT's Millionaire Underdog theme and he likes to do the first kickoff event with the club owners, but that is all. The club is completely separate.
Will I receive a confirmation after I register online?
Yes, you will be sent an email confirmation right away upon registering for the event. If you happen to not see an email come through, check your spam folder and mark our email as "not spam". The email will be coming from our Club Membership Team at club@intelligentmillionairesnetwork.com. Our team will be giving you a call too as the event nears closer to confirm your registration.
What is the dress code?
Business casual. Look like you belong. Men, if you wear a suit and tie you will stand out. Ladies, wear a nice suit / skirt / blouse. So NO jeans / T-shirts / sandals.
Where can I ask additional questions about the event?
You can email us at club@intelligentmillionairesnetwork.com with the subject title "Club Question"