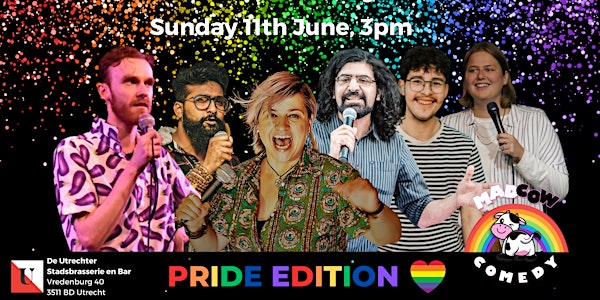 Multiple dates
International Comedy Showcase
Rachel Morton-Young hosts a compilation of international comedians, all performing in English. A fun way to spend a Sunday afternoon!
Date and time
Sun, 8 Jan 2023 15:00 - Sun, 9 Jul 2023 17:00 CET
Location
De Utrechter Stadsbrasserie en Bar 40 Vredenburg 3511 BD Utrecht Netherlands
Refund Policy
Contact the organiser to request a refund.
Eventbrite's fee is nonrefundable.
About this event
INTERNATIONAL COMEDY SHOWCASE!
Utrecht-based comedian, Rachel Morton-Young, introduces a different mix of international comedians every 2 weeks. Our promise is that no two shows are ever the same. This showcase attracts an international audience from all over the region and the vibe is warm and friendly.
A fun way to spend a Sunday afternoon in the heart of Utrecht!
NEXT SHOW:
(scroll down for full list of shows in 2023)
Join us on Sunday 11th June for our special edition Sunday afternoon showcase as we celebrate pride month! We have a great line-up of international comedians all representing the LGBTQ+ community. It's a great way to spend a Sunday afternoon.
Karan Karthik (MC)
Karan Karthik, originally from Bangalore, India, living in Enschede, Netherlands (yes that is a real place), has been slowly making his moves on the Dutch comedy scene. After a good run of shows in 2022 in the Netherlands and Germany, has successfully launched his first Solo "MAD PSYCHOLOGIST" to a SOLD out crowd in Amsterdam last month, and headlined one of the shows at the Utrecht International Comedy festival.
This polyamorous psychologist has something to say about everything from racism to mental health to sexual fantasies, to literally anything he can shrink down into his limited mind. He still is not sure if he is funny or just finds things funny, so he is hoping that you will join him in at least laughing at him if not with him.
Soula Notos
Soula Notos is a Dutch-Greek comedian based in Utrecht. Many audiences in Europe have encountered this bubbly hugger with her interactive and physical style. Her comedy is expressive, energetic and full of self-mockery. She has performed at the Utrecht International Comedy Festival, the International Luxembourg Comedy Festival and the Women in Comedy Festival in Manchester. She is a member of the collective the Comedyhuis. Besides being a comedian, she works as an actress, theatermaker, storyteller, teacher, and a host. More info: www.soula.nl
"A lot of flair and strong body language."- Stampmedia.be
"Yeah, great and all, but why are you not married?" - Mom
Hermes Ahmadi
Hermes, a Dutch-Afghan comedian based in Eindhoven is a recipe for identity crisis. No stranger to calamities, he'll show you the positive side of any disaster. Hermes will let you know that you can laugh even, nay especially, about the end of the world!
Lui Beca
Lui Beca's stand up is adorably awkward, heart-warmingly genuine and full of unexpected punchlines. A fresh perspective on Gen-Z LGBTQ+ identity faced with growing up in a conservative family in Eastern Europe; sprinkled with tales of immigrating to Berlin and finding her feet as a young adult in the era of political and environmental uncertainty. You'll laugh, cry and want to become her best friend after!
Daan Fares
Daan Fares is quite new to the comedy scene and has a great way of connecting with audiences. His playful and observational style of humour points out the obvious, taking it to levels of ridiculousness.
Originally from Wageningen in the Netherlands, Daan drifts around the country looking for genuine confusion to make funny.
Off-stage Daan is responsible for incoming and outgoing shipments, on-stage Daan his outgoing wit ensures plenty of incoming applause and laughter!
James Johnson (headliner)
James Johnson is a 30-something homosexual who would probably get on quite well with your grandma, particularly if she's one of those ones who likes drinking gin and gossiping about the woman next door…
Described as 'witty, eccentric and perfectly paced', James is an accomplished stand-up, MC and quick-witted storyteller who minces at full throttle between the observational, the absurd and the ever so slightly dark…
We have great acts, a warm and welcoming atmosphere and a nice environment to meet and mingle. Come and join us for an afternoon of fun and laughter!
Tickets available via madcowcomedy.nl, comedyhuis.nl and Eventbrite.
The published line-up is subject to change; please keep an eye on @madcowcomedynl on social media for the latest information
UPCOMING SHOWS 2023:
Sunday 25th June - Showcase with Ollie Horn, Fedor Ikkelar, Dan Rubenstein and Mel Byron
Sunday 9th July – International Showcase featuring April Macie!
In July and August we'll be taking a summer break and will be back on Sunday 3rd September when we kick off of new season with a mix of International Acts
The published line-up is subject to change; please keep an eye on @madcowcomedynl on social media for the latest information.
About the organiser
We organise an International Comedy Showcase every 2 weeks on Sunday afternoons at 3pm in the heart of Utrecht at the Utrechter City Brasserie and Bar.