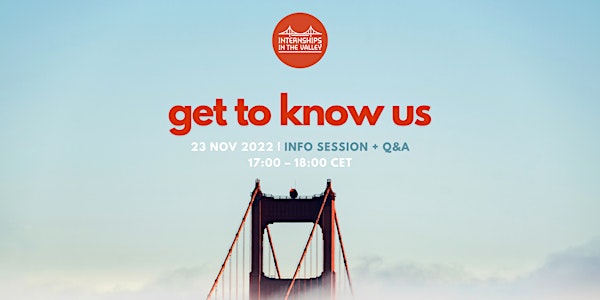 Internships in the Valley 2023: Info Session + Q&A
Want to find out more about the Internships in the Valley program or have a question to ask? Then join us online on 23rd November 2022!
About this event
On the 23rd of November 17:00 CET, Internships in the Valley is organising an online info session Q&A event for its 2023 Program. The event will be packed with info from the Dutch Consulate General in San Francisco, the Internships in the Valley team, and The Netherland-America Foundation. Of course we'll leave more than enough time to answer any questions you may have about how to apply or the content of the program. But most importantly, this is your opportunity to gain a deeper insight about what the program has to offer!
Submit your question
You may have a question about the eligibility requirements, selection procedure or program content. This is your chance to ask us anything. Please submit your question beforehand when you register for the event.
Agenda
17:00: Opening by Deborah van den Brande, from the Dutch Consulate in San Francisco
17:05: Introduction of the 2023 Program (including application procedure)
17:20: Presentation by Maggie Maloney from The Netherland-America Foundation
17:35: Q&A
18:00: Wrap-up of session
Application deadline
Remember, our application deadline for the 2023 Program is 15 December 2022.
For more information about the program, check out our website. Be sure to follow Internships in the Valley on LinkedIn, Instagram, and Twitter for the latest news.
Have a question? Then contact us via email at internshipsinthevalley@vu.nl and we will ensure to respond within 2 working days.